Joe Duffy Submits Ivan Jorge Early With Picture-Perfect Triangle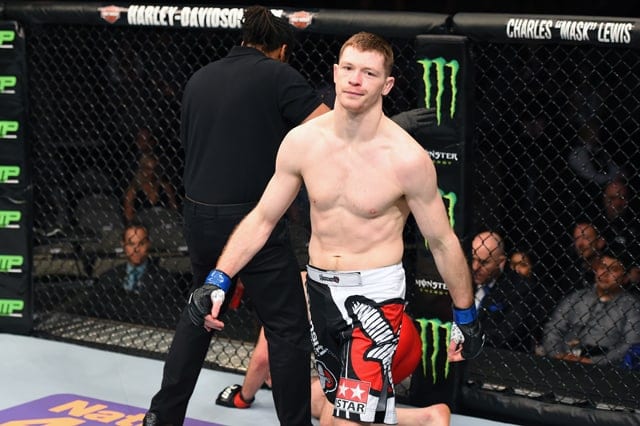 As the last man to defeat interim UFC featherweight champion Conor McGregor, rising lightweight 'Irish' Joe Duffy sought to continue making his own name in the UFC when he squared off with Ivan Jorge on the main card of today's (Sat., July 18, 2015) UFC Fight Night 72 from the SSE Hydro in Glasgow, Scotland.
The action began with Duffy winging some punches and a head kick that barely missed. He followed with a combo and kept his movement level high, nailing Jorge with a stiff punch. Batman' looked to clinch, pushing Duffy against the fence momentarily.
Duffy broke to open up with a solid combo, and Jorge responded with another clinch. Duffy went for another head kick, and Jorge countered with a decent combo. He went for a takedown, putting Duffy on the mat awkwardly and landing in a triangle choke.
Duffy locked it in and tightened the hold, earning the tap from Jorge in the first round.
Final Result: Joe Duffy def. Ivan Jorge via R1 submission (triangle choke, 3:05)