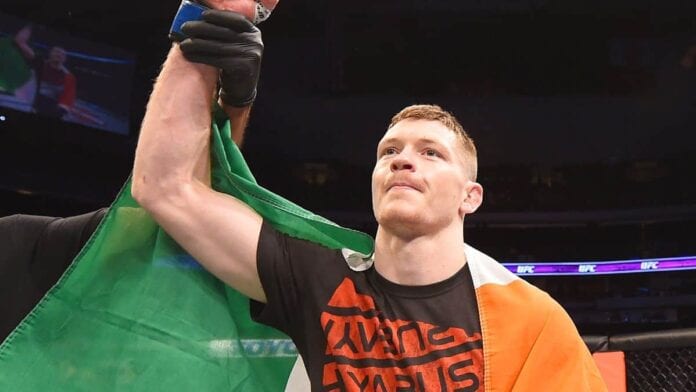 "Irish" Joe Duffy is gearing up to main event his very first UFC card, as he's set to take on former top-5-ranked featherweight Dustin "The Diamond" Poirier at October 24's UFC Fight Night 76 from Dublin, Ireland.
Despite his impressive 2-0 Octagon record, Duffy is still most known for being the last man to defeat superstar interim featherweight champion the "Notorious" Conor McGregor. McGregor is now set to take on reigning UFC 145-pound king Jose Aldo in December, but he did mention at the UFC's "Go Big" press conference that he would like to get his revenge on Duffy.
Appearing on yesterday's (October 12, 2015) edition of the MMA Hour, however, "Irish" Joe said that McGregor cannot get under his skin, and that he believes that he would still beat the "Notorious" one:
"Nothing Conor says can get under my skin" Duffy said. "If it was somebody who I cared about, like my family, saying this, yeah maybe. But Conor's opinion doesn't matter to me. He can say what he wants, and it doesn't change the way I would fight him. It doesn't change the fact that I think I would still beat him. None of that stuff changes. None of that will ever get under my skin."
The two men met back in 2013 at a Cage Warriors event, with Duffy scoring a very quick 38-second submission victory, and "Irish" Joe said that he would take out McGregor just as quick in a rematch:
"I believe I can take Conor out just as quickly," he said. "Everyone notices Conor has greatly improved, but so am I. Everything Conor does, I feel I can beat him at. He uses more kicks, I've been doing taekwondo since I was five. There's not an area I feel he can beat me."
Despite both being interested in the bout, Duffy is currently competing as a 155-pounder, while McGregor sits at 145-pounds. However, the "Notorious" one has voiced his intentions to move up to lightweight, and Duffy says we'll just have to see how things play out:
"We'll just have to see what happens. We'll see how things go and how I feel, and we'll go from there. I'll guess I'll leave people in suspense for that."
Would you like to see the two Irishmen do battle once again on the sport's grandest stage?