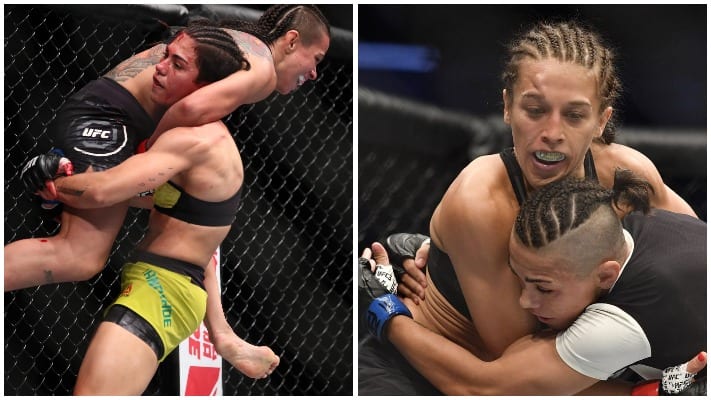 UFC women's strawweight champion Jessica Andrade is no stranger to trash talk from Joanna Jedrzejczyk or Claudia Gadelha.
Ever since becoming champion, Andrade has been on the receiving end of some criticism from the two. Jedrzejczyk, who outpointed Andrade in their 2017 title fight, wasn't impressed with the Brazilian's training videos on social media. Gadelha, meanwhile, who suffered a unanimous decision loss to Andrade in 2017, has been questioning why the latter is fighting at strawweight, considering her strength advantage.
For Andrade, their comments are just a result of jealousy:
"I'm already used to having (Gadelha) and Joanna talking a bunch of stuff, but it's jealousy because I won the belt and they haven't," Andrade said recently (via MMA Fighting). "They want attention and I won't give them any attention. They have to fight and show who deserves to fight for the belt. I had to fight three times and earn the opportunity to fight for the belt again, so they have to do the same.
"Claudia Gadelha had so many opportunities to win the belt against Joanna, I had one—and I believe that down the line, with Joanna winning, we'll have a rematch. That Jessica from two, three years ago is not the same anymore. I believe I'll keep this belt for a long time."
Andrade On Criticism
Andrade believes Jedrzejczyk — who faces Michelle Waterson next — is trying to get a title shot by provoking her into a rematch:
"She wants attention, she wants to talk me into asking for this fight before it's time," Andrade explained. "She has to eat more rice and beans, has to get there and earn her chance. There are others ahead of her."
As for Gadelha's comments, Andrade had a simple response:
"Making weight is what matters, not the strength," Andrade added. "But it's all good. If she gets more wins like I did to earn another opportunity to fight for the belt, why not? I'd fight her again."

What do you make of the criticism/trash talk Andrade is receiving?