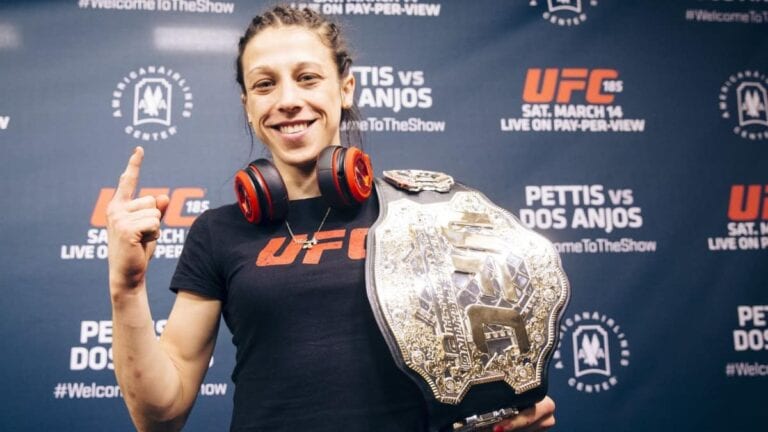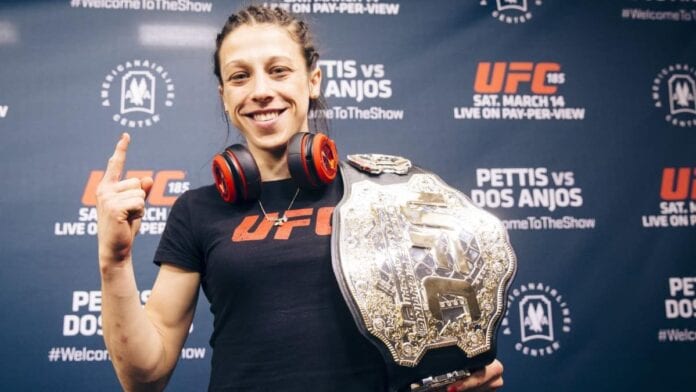 Rising UFC women's strawweight champion Joanna Jedrzeczyk is set to make the second defense of her 115-pound title on November 14, 2015 in the co-main event of UFC 193 against No. 9-ranked Canadian Valerie Letourneau.
Many were expecting a much anticipated rematch between the vicious Polish champion and top contender Claudia Gadelha, but the Brazilian was forced out of the bout with an injury. Jedrzeczyk believes that Letourneau is a suitable opponent, however: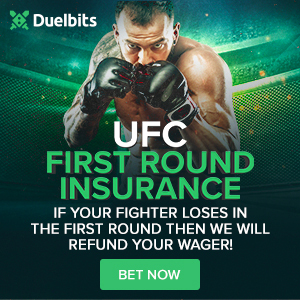 "She's very good striker and I'm happy that I'm going to fight Valerie now before she gets very well, so she's the right person, Jedrzeczyk said (Via FOX Sports)."
"Trouble", although relatively unknown, has racked up three-straight wins in her Octagon career. In her UFC debut in 2014, the Canadian scored a split-decision victory over Elizabeth Phillips. She has since scored two more decision wins over Jessica Rakoczyk, and Maryna Maroz, looking quite impressive in the process.
However, Jedrzeczyk has a clear message for the challenger, noting that she is unlike the rest of the division:
"I'm not Maryna Moroz and I'm not Rakoczy, you know? I'm Joanna Champion," Jedrzejczyk said with authority when speaking directly to her opponent on the conference call line.
The champion may have a point, as she has looked absolutely destructive in her last two performances. She met former champion Carla Esparza last March at UFC 185, and put on a clinic on route to capturing the title. She then defended the belt last June against highly touted challenger Jessica Penne, utterly destroying Penne over the course of three rounds before earning a stoppage victory.
"Joanna Champion" has proved herself as a dominant striker, and she believes that the fear is already in Letourneau's head:
"Keep it in your mind," Jedrzejczyk said. "I know you're afraid already."
Will the Canadian offer any challenge to the champion?