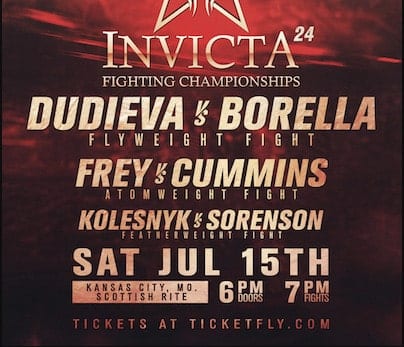 Invicta FC 24 is set to take place on Saturday, July 15th at Scottish Rite Temple in Kansas City, Mo. All eight bouts will air on UFC's official streaming service, UFC Fight Pass.
The event will be headlined by the promotional debut of UFC veteran Milana Dudieva (11-5) and fellow flyweight Mara Romero Borella (10-4, 1 NC). Jinh Yu Frey (5-2) vs. Ashley Cummins (5-3) in an atomweight bout will serve as the co-main event.
Invicta FC officials held the weigh-ins for Invicta FC 24 on Friday and here are the results:
Milana Dudieva (125.8) vs. Mara Romero Borella (125.9)
Jinh Yu Frey (105.9) vs. Ashley Cummins (105.9)
Pam Sorenson (149.6) vs. Helena Kolesnyk (145.9)
Karina Rodriguez (124.1) vs. Barbara Acioly (125.9)
Miranda Maverick (125) vs. Gabby Romero (125.4)
Sunna Rannveig Davidsdottir (115) vs. Kelly D'Angelo (115.2)
Felicia Spencer (146) vs. Amy Coleman (149.5)
If you enjoyed this story, please share it on social media!