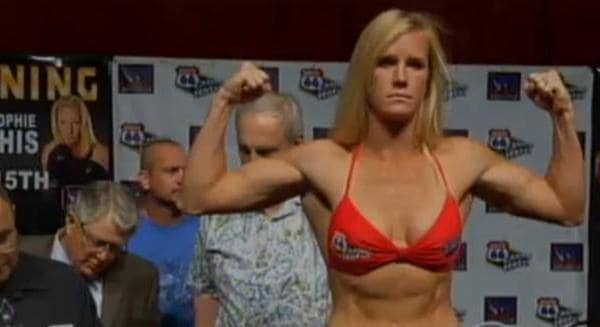 It was recently announced that Holly Holm was set to make her much-anticipated octagon debut at UFC 181 against Raquel Pennington on December 6, 2014.
Holm was signed to the UFC last July, bringing an instant boost of star power and talent to a list of bantamweight contenders that is falling one by one to bantamweight queen Ronda Rousey.
The former Legacy FC champion previously said she didn't want a title fight right off the bat. However, appearing on The MMA Hour yesterday (Tues., October 14, 2014) Holm said she wouldn't reject a bout with Rousey if it were offered:
"If they throw me in with Ronda, awesome. I'm never the one who makes the call. I always want more time, because I'm never going to be perfect. There's always time."
These statements pose an interesting question: does Holm actually stand any chance against the "Rowdy" one?
As of now, I would have to say her chances are pretty slim. But I will also admit that I do believe Holm can be an instant contender if her octagon debut goes well, and a dangerous one at that.
With this potential scrap, I think it's pretty obvious where each lady's strengths lie. Holm, the decorated boxer against Rousey, the Olympic judo player and highly regarded grappler.
If and when this fight does happen, the only chance I'm giving the Jackson product is on the feet. She is a multi-time world champion and a veteran of 38 professional boxing fights. Holm is undoubtedly the best striker in the women's division.
"The Preacher's Daughter" owns six knockouts in her seven-fight MMA career. She also possesses a four-inch reach advantage over the champion, which could help her greatly. Despite the obvious advantage in the striking department, I just don't see that being enough for Holm to get the job done, or even have a chance to do so.
First off, Rousey has an ever-improving striking game. It was shown in her 16-second knockout win over Alexis Davis at UFC 175 last July, and she has stated previously that she has been working endlessly with her coaches to round out her game. Although, I still give Holm the advantage, I don't think it will be a problem for Rousey.
Rousey is one of the smartest fighters in the game today. She is incredible when it comes to strategy and adapting to situations she is put in. That being said, I would actually give Rousey the advantage in every other aspect of fighting, including the ground game (which goes without saying).
"Rowdy's" world-renowned judo takedowns and top-level submission skills will work wonders in this potential throwdown.
The former boxer is great at what she does, and her transition to MMA has gone well, but it would be a true insult to Rousey to say that Holm is even light years close to even competing with the champ on the mat. I'm sure she is working hard to improve her ground game, as it is without a doubt her weakest asset, but I don't think that will matter.
When these two women step in the octagon, I believe that Rousey will be able to take down Holm at will and submit her with ease. I don't even think it will be close.
I will definitely admit I'm excited to see Holm get in the octagon and I'm happy there could be another challenge to Rousey in the waiting. However, at this time, I just don't see any way Holm stands a chance.
There's no other way to say it then Rousey is the best woman fighter on the planet. A relentless, motivated champion that, unless she surrenders her belt and chooses a different career path, will be champion for a very long time.