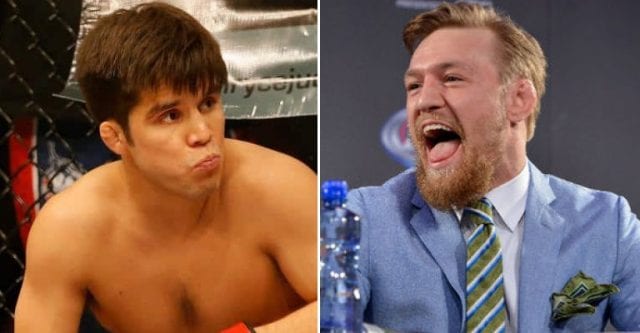 Earlier this week, Conor McGregor called out ONE Championship for supposedly causing the end of the UFC flyweight division.
The comment came as a result of ONE's historic trade for longtime former UFC champion Demetrious Johnson. The UFC shipped "Mighty Mouse" to the rapidly-expanding Asian promotion for former welterweight champ Ben Askren. Unfortunately, that also seemed to spell the end of the flyweight division as far as the UFC was concerned.
The writing was soon on the wall when one flyweight revealed he had been released.
However, another fighter won't go easy. That's UFC flyweight champion Henry Cejudo. "The Messenger" dethroned 'Mighty Mouse' in a thin split decision at UFC 227 last August. Now, he's aiming for an even bigger star. Cejudo dug deep on McGregor tonight (Nov. 8, 2018) by questioning not only his mat skills but his heart on Twitter:
"Don't worry about the flyweight division Conor. You should worry about your wrestling and grappling skills and your spirit!"
Cejudo wasted no time in hitting below the belt. McGregor's takedown and submission defense, along with his tendency to seemingly tap out right when a choke is applied, have sullied his rep since UFC 229 somewhat. The Irish superstar was tapped out by Khabib Nurmagomedov in their anticipated main event.
He's still the UFC and MMA's biggest style by a wide margin. Yet you have to wonder how many more submission losses McGregor can absorb before his legacy does take a hit. He's asked for a rematch with Khabib. That may not be in the cards for now. McGregor has offered to fight the next contender as a result.
As for Cejudo, he's been linked to a champion vs. champion superfight with UFC bantamweight champion TJ Dillashaw. The bout is rumored to headline January's UFC 233 from Anaheim, California. Both Dillashaw and Cejudo were born in California.