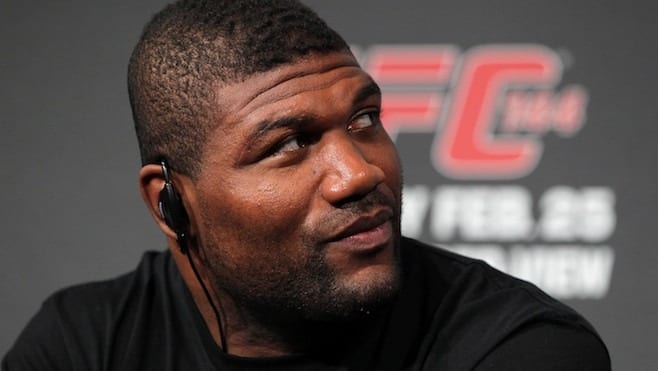 For former light heavyweight champion Quinton "Rampage" Jackson, it's been a long and winding road back to the co-main event of this Saturday's (April 25, 2015) UFC 186 from Montreal, Quebec.
The polarizing slugger just got re-approved to fight in the Octagon once again after a prior preliminary injunction from his former employer Bellator MMA temporarily blocked him from facing an opponent tailor-made for his power-hitting style, Brazilian boxer Fabio Maldonado.
Yet it was only a few short years ago that, ironically enough, Jackson complained about how the UFC was treating him, and it lead to him defecting for a strange and incentive-laden Bellator deal that ultimately fell apart when they allegedly failed to disclose pay-per-view numbers to him.
On the even of his promotional return, Rampage is ready to put those bad times behind him. Discussing how he mended the fences with his once-public enemies, Jackson told MMAjunkie that both sides have now done the growing up necessary to eye-to-eye:
"I talked to (UFC President) Dana (White) on the phone the other day; I think we all grew up. I had some problems with some things that I felt I wasn't receiving and things like that. Lorenzo (Fertitta) and I talked about it. This time if I feel like I should receive some stuff that I'm not getting, I'll talk to them about it first and see if we can fix things."
A lot of Jackson's gripes apparently stem from his match-ups n the UFC, where he got sick of battling grapplers who only wanted to wrestle an wouldn't stand and trade with a known knockout striker. Rampage purveyed the thought that he still had a legitimate gripe in that he wasn't properly utilized:
"I was honest with everyone when I said I was upset with the UFC; I didn't like the way they treated me. I wasn't respected for what I bring to the table. I'm the guy who always comes to fight and I put on a show. I felt like Joe Silva kept giving me shi-ty fights.
"Why not give me 'Shogun' in Japan when I went to Japan? Why not make those matches? Why keep giving me people like (Ryan) Bader who only want to wrestle? It's unfortunate what happened in the past, so I left and said I could do better."
With those times now in the past, Rampage is poised to at best make one last surprising run as a contender in a division starved for top talent.
His last UFC run didn't end in the most stellar fashion, so we're going to find out if that was mainly due to motivation when he climbs into the cage this Saturday night. That's where his focus is, and he's excited to finally put on a show for his Canadian fans. Rampage knows Maldonado will be tough to knock out, but of course that's his number one goal:
"I just wanted to make it here for my fans. I never fought in front of the Canadian fans, and I just felt like a lot of fans was happy I was back in the UFC and they wanted to see this fight, so I kept fighting so I could make it for my fans. I'm going for the knockout. I heard this guy is tough to knock out, but if anyone can do it I can."