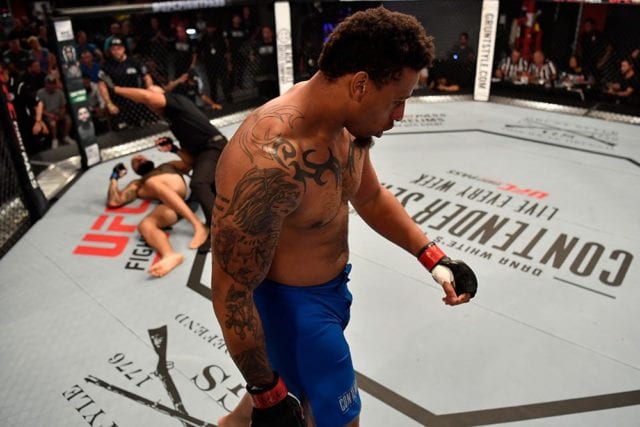 Last night (June 12, 2018), troubled former NFL star Greg Hardy made his professional mixed martial arts debut, taking on Austen Lane in the first edition of season two of Dana White's Tuesday Night Contender Series from The Ultimate Fighter (TUF) gym in Las Vegas, Nevada.
Due to his past legal issues that involved domestic violence, Hardy has received a ton of criticism, but he made the most of the opportunity presented to him, as he knocked out Lane less than one minute into the first round with a vicious right hook followed by a big left hand.
Following the event, UFC President Dana White said that the promotion would be offering Hardy a contract, although he implied that it would be more of a developmental deal due to Hardy's lack of experience.
Hardy, however, feels as if he's 'ready for the big show':
"It's awesome news," Hardy told ESPN. "I get an opportunity to show what I've got, go back and work hard and come back even better than before. It's exciting. It's everything I could ask for.

"I just want to get back in the ring. Whatever show it is, I just want another opportunity to fight. Man, I'm having the time of my life and really enjoying it.

"I'm ready for the big show," he said. "I train with the best gym in the world, and I have full confidence and faith that those guys are there to get me ready for whatever comes next."
At this moment, it's unclear what exactly will be next for the 29-year-old.
If you enjoyed this story, please share it on social media!