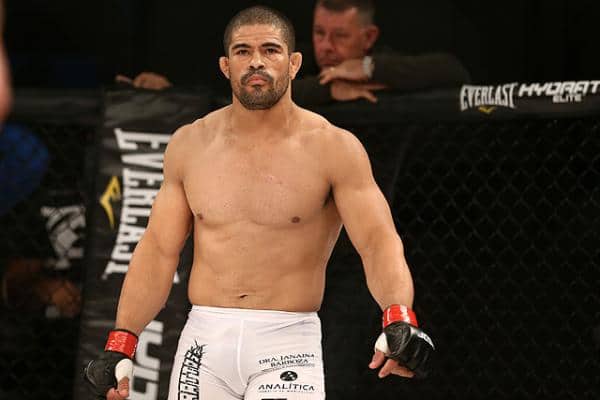 Rousimar Palahres successfully defended his welterweight title last night (Saturday August 1st, 2015) with a third round submission win over fellow UFC vet Jake Shields at WSOF 22. The Worlds Series Of Fighting 170-pound champion didn't escape without controversy though, as nce again his style of fighting has come under criticism. Paul Harris not only held the submission for too long, again, but he was accused of gouging Shields' eyes.
Jake Shields' coach Tareq Azim posted a picture to his Instagram account, showing the aftermath of the alleged multiple eye gouges:
The consequences of two pieces of shit : mazzagatte and pahalares should both be banned from professional sports- @jakeshields victim of eye gouging ! Now you all understand why i charged the cage ! @brendanschaub @karynbryant @wsof @gilbertmelendez @ramseynijem
Having already been canned from the UFC for holding submissions against Mike Pierce and Tomasz Drwal, Paul Harris also sparked controversy while submitting Jon Fitch and seemingly refusing to let go, and now the kimura against Shields looks to be along the same lines. When you add in eye gouges, it's not a very pretty picture at all. UFC lightweight TJ Grant called out for the Brazilian grappler to get banned for life:
Just watched shields vs Paul Harris finish last night. Paul Harris again, tries to maim his opponent unnecessarily Lifetime ban IMO

— TJ Grant (@TJ_Grant) August 2, 2015
What do you think, is Palhares proving to be too much of a scumbag for the sport of MMA (mixed martial arts)? One thing is for sure, a brief look at his record, and now the eye gouging too, would indicate that the stocky 'Toquinho' needs to get some sort of warning at the least. Then again he has been suspended and cut for similar infractions in the past, so when is it enough?
We'll keep you updated to this murky story as more comes to light, so stay tuned to LowKickMMA!