Glover Teixeira On Jon Jones' Eye Pokes: Either Way, He Would Have Won That Fight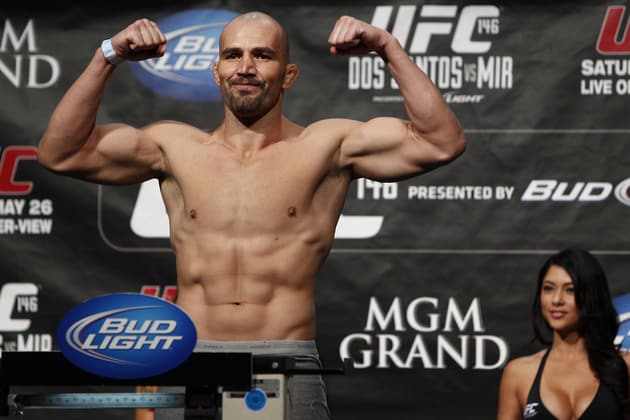 The last time reigning UFC light heavyweight champion and pound-for-pound king Jon Jones defended his title was last May at UFC 172 against Glover Teixeira. Jones put on a dominant performance en route to a five-round unanimous decision win.
This snapped an eight-year and 22 fight unbeaten streak for Teixeira, as he was simply outmatched by the champ. However, despite the clear cut victory for Jones, much of the post-fight discussion involved criticism for numerous eye pokes by "Bones". Many fans came down hard on the champ for these dirty tactics, although we can't be sure he meant to do it.
However, the Brazilian, who is humble in defeat, downplayed the significance of these eye pokes. Speaking to MMAJunkie, Teixera stated how he doesn't think they mattered much:
"I don't think it changed the result. It wasn't because of eye-pokes that I lost that fight. Jones won that fight. He injured my arm at the start of the fight. He deserves credit for his win. The eye-pokes did bother me because it affected my vision a bit.
"But either way, he would have won that fight. That's the truth."
Although admitting that the champ got the best of him that night, Teixeira believes he would do better if given a second chance at the title:
"Without a doubt. I believe in my potential. I believe in my knockout power. I learned a lot when I fought him.
"If I faced Jon Jones again, I would have a great chance. I have learned a lot. I know where I made mistakes. Now I'm working my way back. At my age, there isn't much time left, so I'm running after it."
Teixeira will return to the octagon this Saturday (October 25, 2014) in the co-main event of UFC 179 from Rio de Janeiro, Brazil. He takes on No. 7 ranked Phil Davis and if he can score a win, he will likely be right back in the mix at 205 lbs.
Davis is also coming off a one sided loss to the surging Anthony "Rumble" Johnson at UFC 172 as well. Teixeira expects Davis to be just as motivated as he is to get back on track and is in no way over-looking the former national champion wrestler:
"Phil is a good fighter. He's a good wrestler with good submissions. He's been near the top of our weight class longer than I have. I can't take him lightly.
"Phil is always well-trained. He fights very well and moves very well. I'm training very hard and looking to give everything I have to beat him. It will be a great fight, no doubt."
Davis is undoubtedly one of the best pure wrestlers in the light heavyweight division and has gained success from taking opponents down and displaying a stifling top game.
However, the Brazilian believes he is ready for this and welcomes the challenge:
"He could very well play that game, so it's up to me to get a victory, one way or another. I'm not one of those fighters who wishes my opponent won't tie me up. It's up to me to not let it happen. It's my obligation as a fighter.
"If he chooses to lay and pray, I wouldn't complain about it. My obligation is not to let it happen. I'm training very hard for that."
This matchup will pit two men looking to get back in title contention up against one another; however, only one will prevail. Who will come out on top?