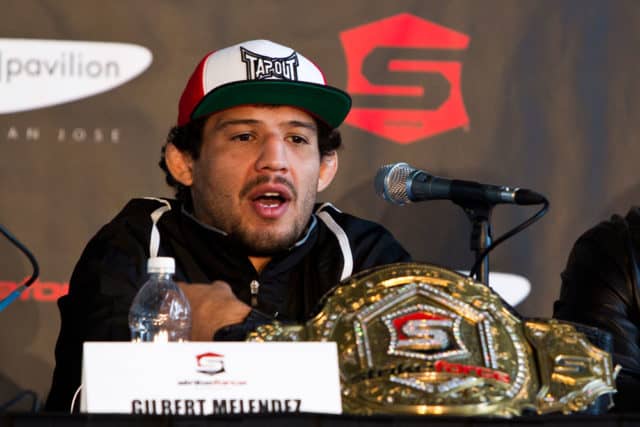 Former Strikeforce lightweight champion Gilbert Melendez knows a thing or two about big fights.
He's currently headed for one when he faces off with returning champion Anthony Pettis in the co-main event of December 6's UFC 181 from Las Vegas, Nevada. "El Nino" and Pettis' upcoming bout will conclude the upcoming season of The Ultimate Fighter (TUF) 20, which will decide the first-ever UFC women's strawweight champion. The show debuts this Wednesday night (September 10, 2014).
His fight with Pettis is a huge one; arguably the biggest of his career, and the bout that will deicide the women's 115-pound champion is another one. But Melendez recently spoke up to MMA Weekly about an even bigger fight, the UFC 183 main event between injured former middleweight champion Anderson Silva and his good friend Nick Diaz that will take place on January 31, 2015.
Like most, Melendez thinks that ultimately the fans win with this bout. His words:
"There's not too many times in the sport where everyone is a winner, and the fans, by far, are the winners. Nick's a winner in this situation. I think this is a great fight for him to come back to and a fight that he's wanted. He's fighting one of the greatest of all time, or the greatest of all time at an upper weight.
Anderson is coming back. He's fighting a guy who is probably not a kicker, which is probably a good thing. And I'm pretty sure Dana and Lorenzo are happy with this situation. They got Nick Diaz back in the cage, and he's not fighting for a title. It's a huge fight. Obviously it's going to make a lot of money. I think it's great for the sport. I think everyone's a winner in this situation."
There's no doubt Silva vs. Diaz will bring in a ton of attention and money, and for good reason. Melendez makes an excellent point when he stresses that it's a good thing Silva won't be fighting a kicker in his first return bout, because even "The Spider" admitted he still struggles with the "ghosts" of his gruesome injury from UFC 168.
While UFC President Dana White has hinted that the winner of Silva vs. Diaz may be in line for a title shot, it's hard to argue that either one would be ready for an immediate fight against Chris Weidman or Vitor Belfort. That hardly means they won't get the chance, however.
Silva vs. Diaz is no doubt a great match-up, a striking fan's dream. But with the hyped bout set to supplant the winner firmly into the crowded middleweight title picture, should "Jacare" get a title shot before Silva or Diaz?
If you enjoyed this story, please share it on social media!