Ex-UFC star Gilbert Melendez confident Nate Diaz 'destroys' Jake Paul in MMA: 'I'd love to see it'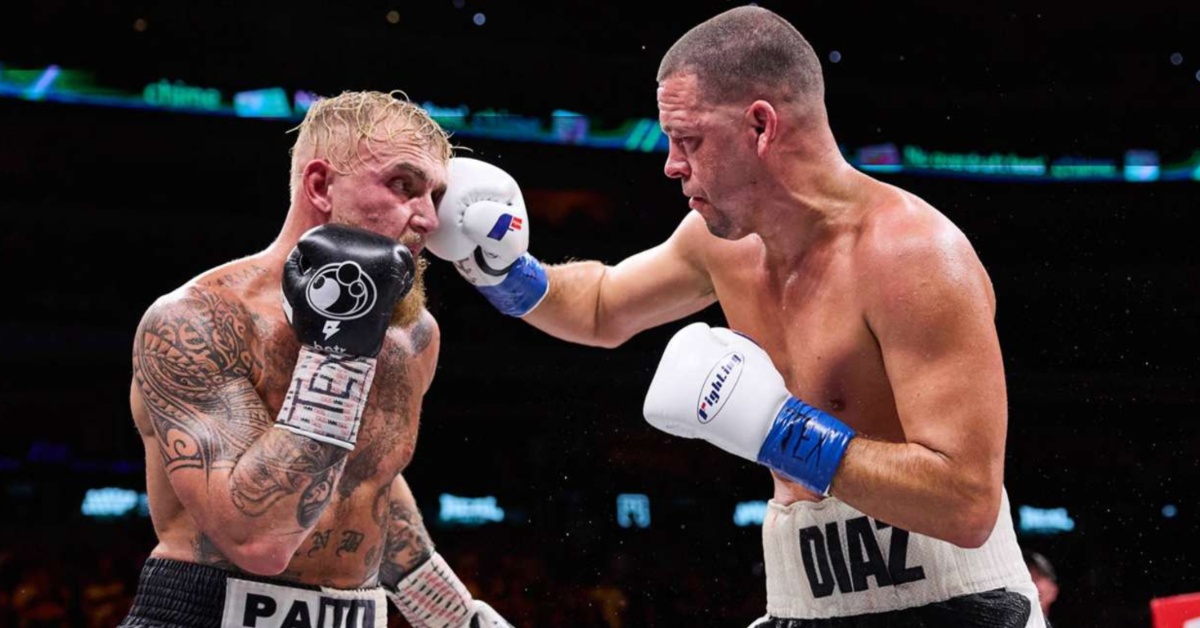 Jake Paul may have gotten the best of Nate Diaz inside the squared circle, but things might not go quite as well should he decide to step into a cage with the 'Stockton Samurai' next year.
'The Problem Child' scored his seventh career win over the weekend, earning a unanimous decision victory following an entertaining 10-round scrap. Immediately following the match, Jake Paul doubled down on his MMA challenge to Nate Diaz, offering the TUF alumnus $10 million to meet him inside the PFL Smart Cage.
According to Nate Diaz's longtime teammate Gilbert Melendez, that offer could come back to bite the social media superstar.
"Nate destroys this guy in MMA," Melendez said of the potential matchup on an episode of The Fighter vs. The Writer. "I'd love to see it. I'd love to see it in boxing again, too. Run it back in boxing and then in MMA" (h/t MMA Fighting).
Nate Diaz Proved He is the 'Better Fighter' Despite Taking an L Against 'The Problem Child'
Sitting ringside at the American Airlines Center in Dallas, Melendez believes the kid from 209 showed the world he is the better fighter, but the power and durability of 'The Problem Child' ultimately proved to be too much for Nate Diaz to overcome.
"To me, [Nate] was clearly a better fighter, boxer, the power went to the young man and the durability went to Jake Paul for being young but towards the end, I felt the momentum [shift] again," Melendez explained. "The no quit in Nate coming around. That 9th and 10th rounds where Jake Paul's getting tired, he's hugging, he's losing steam, he can't put him away. Obviously, I think the size made a difference. A smaller man would have withered sooner.
"I thought Nate did a great job. Just two significant moments happened for Jake Paul that made Nate have to come back a little bit and I believe he was on his way to coming back both those times in that fifth round before he got clipped and then in that 10th round when Jake Paul was holding on and just kind of letting time expire."
Gilbert Melendez Believes Jake Paul vs. Nate Diaz in MMA Will Be a One-Sided Affair
While Jake Paul undoubtedly held an advantage in the sweet science, things could be drastically different under MMA rules. Even if Nate Diaz gives up a considerable size advantage, his world-class grappling would undoubtedly be too much for 'The Problem Child' to overcome.
"You may land a good jab or a good shot but we can clinch" Melendez said. "We can clinch and there's no referee there to break you up. What's going to happen then when we get in that grappling zone? It's just a different sport. You could train, you could become a blue belt [in Brazilian jiu-jitsu] but it takes so much time to become a black belt.
"The grappling, the wrestling is very complex to learn compared to the boxing. I'm not saying it's easy to succeed but when I have people sign up at my gym and they're like 'what should I do first?' You'll probably succeed at boxing first. Meaning it's just your hands, one-two, one-two, some punches. There's a lot to it [with MMA] — adding kicks, jiu-jitsu, wrestling. It takes so much time to learn that and then to put it together in MMA."
Aside from the introduction of grappling, Melendez believes that the move from eight-ounce gloves to four-ounce ones will also present Jake Paul with an entirely different perspective once things are all said and done in his mixed martial arts debut.
"Not only in the grappling department but striking with MMA gloves is a different animal," Melendez said. "It's a different animal. The punches are different. The way they get in. The angles you can use. The dirty boxing you can use. It's just a different animal.
"It's just a lifetime of experience. Nate's one of those guys, he's a mixed martial artist. He knows it all and it's real type of fighting. Just snagging that choke and seeing how he responded, he hit a single leg. It's a different animal. That's what mixed martial arts is. This is as pure as fighting comes that can be sanctioned."
It is possible that the two combat sports icons could opt to run it back inside the squared circle ahead of, or in lieu of a rematch in mixed martial arts. But whether it happens in the ring or the cage, Gilbert Melendez is 100% on board for it.
"It's a different sport," Melendez said. "I can't wait to see it. I really do hope they have a rematch, whether it's boxing or MMA."