Full Report Details Jose Aldo's Random Drug Test In June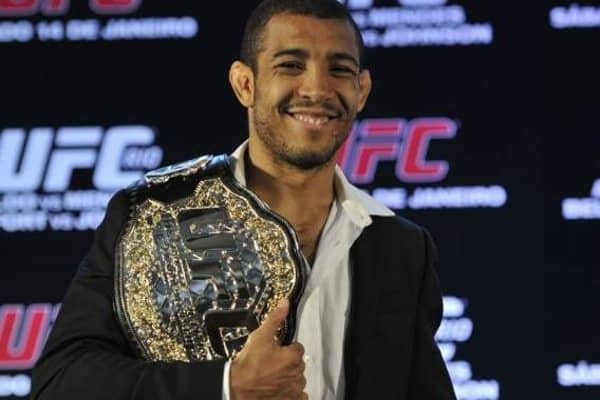 UFC featherweight champion Jose Aldo has had some pretty rough press in the last month, and also an unfortunate rib injury that saw him struck from the UFC 189 headliner with Conor McGregor. It wasn't just the high profile injury that meant his beef-settler with 'The Notorious' was delayed that made the headlines though, as 'Scarface' was involved in a somewhat botched random drug test with the NSAC (Nevada State Athletic Commission) and testing agency 'Drug Free Sport'.
What we know so far is that the Brazilian authorities were called when the NSAC came knocking, apparently because the tester, one Ben Mosier, did not have a valid work visa. Conflicting reports recently cast more controversy on the situation, and finally a full report has been made. ESPN had the full scoop, so check it out:
Due to several complications, an initial sample provided by Aldo on June 11 was discarded. The Brazilian MMA Athletic Commission (CABMMA) tested Aldo again on June 12. That sample was analyzed at the Sports Medicine Research & Testing Laboratory in Salt Lake City and tested negative for any banned substances. It is the first time the NSAC has ordered and received an enhanced, out-of-competition test in Brazil.
According to collection reports filed by Drug Free Sport and obtained by ESPN.com, the company assigned collection responsibilities to Ben Mosier, its director of professional sports drug testing. Mosier is described as having conducted 'thousands' of collections, including international, without incident.
Prior to traveling to Brazil, Mosier was issued a 10-year VITEM II business visa. Drug Free Sport officials noted within the collection reports, "It appears now that a VITEM V (work visa) is required for such services."
Mosier arrived in Brazil on June 10 at approximately 10 a.m. local time. At 1:29 p.m., Mosier attempted to contact Aldo's team to collect the sample. Aldo's coach, Andre Pederneiras, returned Mosier's call at approximately 1:51 p.m. and said he would attempt to locate Aldo. Efforts were unsuccessful and Mosier and Pederneiras arranged for the test to be done the following day at 10:30 a.m. at Aldo's training facility.
Aldo, 28, arrived at the gym on June 11 at approximately 10:30 a.m., at which point a urine test was conducted. Pederneiras was not present for the collection, but another one of Aldo's trainers was and served to translate. A camera crew was also present during the collection process. All reports by Drug Free Sport note that Aldo was "very cooperative" during the process.
As written in the reports, Aldo's second trainer stopped Mosier from processing the sample at approximately 11:15 a.m., due to a request he received from Pederneiras to be there to oversee it. Pederneiras arrived at the gym at approximately 11:30 a.m., at which point he contacted CABMMA to see if the Brazilian commission was aware of the test. Pederneiras has collaborated this in public interviews.
At approximately the same time, an off-duty Brazilian federal police officer training at the gym confiscated Mosier's passport and informed him his visa allowed him to conduct business in Brazil, but not collect urine samples. Reports indicate CABMMA representative Christiano Sampaio arrived at the training facility and "halted the test, claiming the test was not being conducted in accordance to Brazilian MMA procedures."
A local Brazilian doping control officer, who had been contacted to assist Drug Free Sport to ensure quality and coordinate the shipping of the sample, traveled to the gym and attempted to perform the test as a Brazilian resident. Sampaio reportedly informed Drug Free Sports Chief Operating Officer Chris Guinty, however, that only a CABMMA collection officer would be allowed to collect the sample.
At this time, the collected sample was discarded, as both Mosier and Aldo had lost contact with it. Under collection rules, both the athlete and collection officer must be in contact with the sample through the entire process.
At 6:30 p.m., Brazilian immigration officials arrived at the gym to review Mosier's paperwork. Mosier was fined and given eight days to leave the country, but was approved to monitor the collection process of Aldo's sample the following day.
A second test was scheduled to take place at the gym on June 12, conducted by a CABMMA doping officer and monitored by Mosier. The test was scheduled to take place between 8:30-to-9:00 a.m.
On June 12, Aldo did not arrive at the gym at the scheduled time. Drug Free Sport officials were informed Aldo was not present because he was at the US embassy in Brazil, obtaining a visa required to travel to Las Vegas. Aldo arrived at the gym at 11:40 a.m.
A previously scheduled shipping time of 12:00 p.m. was changed to 2:00 p.m. After spilling one urine sample at 11:49 a.m., Aldo provided an adequate sample at 12:29 p.m., which was shipped to the lab at approximately 1:40 p.m.
So it looks as though this may have been just an error in the works, after a whole month of speculation, accusations and sensationalising, is the champion free of sin here? His second test results indeed yielded clean results, meaning the champion obviously had nothing to hide in the 24 hours after the first test. It's highly unlikely that Aldo has found a steroid or any other PED (Performance Enhancing Drug) that can be flushed from the system in a day, although Dan Henderson thinks there might be one on the way.