Two time UFC featherweight title challenger Frankie 'The Answer' Edgar is just days away from being a part of the most historic card in UFC history, when he takes on Jeremy 'Lil Heathen' Stephens at UFC 205 from the Madison Square Garden arena.
Prior to getting booked to collide with Stephens in New York, however, Edgar took on former longtime featherweight champ Jose Aldo at UFC 200 for the interim 145-pound title. Edgar was picked apart by Aldo throughout the 25-minute contest and was again unable to solve the puzzle that is Jose Aldo Jr.
Edgar recently spoke to FOX Sports to discuss the loss to Aldo, stating that he didn't make the proper adjustments when he shared the Octagon against the Brazilian champion:
"I just didn't make the proper adjustments. Everything we worked on in camp, I thought I did well. I came forward, I brought pressure, I avoided the jab, I avoided the leg kicks, but he was just kind of playing smarter than me. That's how I'll say it. I was there kind of looking to throw, looking to fight and he was looking to move and avoid me," Edgar told FOX Sports.

"I feel like I should have recognized that and I didn't. I was kind of stuck on what we worked on in camp, which isn't a bad thing, but sometimes you have to make those adjustments in the middle of the fight and I feel that's something I do really well. So I'm disappointed that I was a little stubborn in this fight and didn't change my attack."
Aldo's performance against Edgar was conservative to say the least, but the former lightweight champion won't bash 'Scarface' for 'point fighting' in their meeting in order to get his hand raised when it was all said and done:
"I think he was playing a game and it's smart on him," Edgar said. "I don't really talk down on point fighters. We go in there to get our hand raised and he got his hand raised so I can't be mad at him for that. I should have recognized that though."
While Edgar is the type of fighter to remember the losses more than the wins, he won't dwell on his performance against Aldo heading into his clash with Stephens. The best way for 'The Answer' to move on for the loss is to put on a spectacular performance in 'The Big Apple' and continue onward towards his championship aspirations:
"This is what I've been thinking about ever since July 9, the night of my fight when I lost," Edgar said. "I just want to go in there and erase everything. The best way to erase a loss is to go back in there and have a good fight and getting your hand raised. That's my goal.

"I don't think I'll ever erase the loss completely. I remember the losses more than the wins, but a win on November 12 will definitely make it sting a lot less."
As Edgar fixes his attention to the task at hand in the form of Jeremy Stephens, he respects his adversary's fight-ending power that he has promised to use to knock Edgar out, but 'The Answer' says he'll have something ready for that:
"I think he's the same kind of guy," Edgar said. "I feel he's a little more well-rounded now. Back in the day, guys would be able to avoid standing up with him and find ways to win. Now he's able to keep it standing up much more and he's fighting at a higher caliber than he was at 155. He's going to look to put me away and I'm not going to have to chase him at all."

"Everybody says they're going to knock me out and no one's done it yet," Edgar said. "All the power to him, I hope he comes and tries to and I'm going to have something ready for him."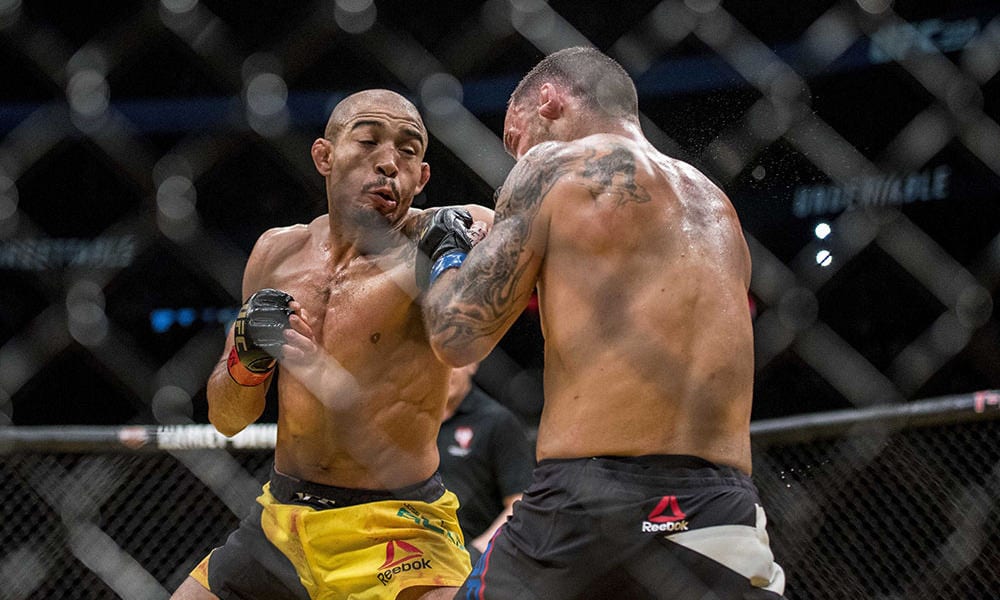 Edgar and Stephens are set to close out the card's preliminary bouts, giving Edgar plenty of time to shower off and sit back to watch teammate Eddie Alvarez go to work against Conor McGregor in the main event of the evening:
"Of course, I think Eddie (Alvarez) is going to get the win (over Conor McGregor) and it might force him to come back down. I don't think he's going to come down. I think the weight's too much for him to cut," Edgar said.
For now Edgar won't look at what is next for him after UFC 205, as his focus is strictly on Stephens for the time being, but he still has his hopes set on another featherweight title opportunity down the road:
"I'm not too concerned with what's next. I know if I beat Jeremy, it's going to put me in a good position to go and fight for that title again in the future. Winning takes care of everything."
Edgar and Stephens will meet on the preliminary card of UFC 205 live on FS1, from the Madison Square Garden arena in New York City on November 12, 2016.