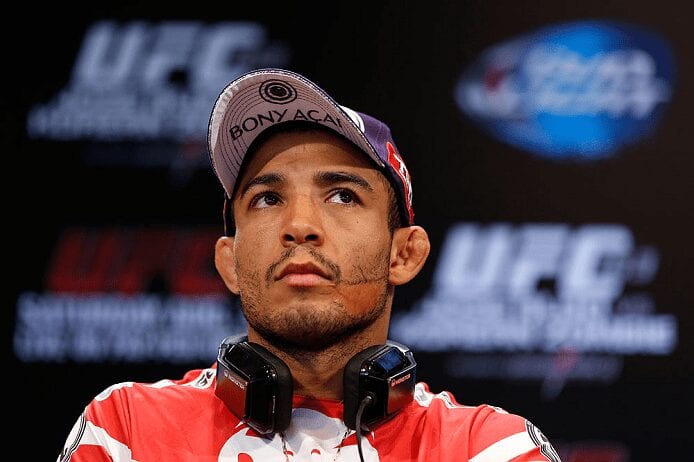 Ultimate Fighting Championship (UFC) featherweight champion Jose Aldo has had an interesting 24 hours to say the least. The Brazilian bruiser underwent a random drug test yesterday morning (June 11), but some strange circumstances halted the urine sample from being sent to the Sports Medicine Research & Testing Laboratory in Salt Lake City.
Ben Mosier of Drug Free Sport Lab took a trip to Nova Uniao to collect Aldo's sample, but the champ's manager Andre Pederneiras was suspicious of Mosier. Pederneiras contacted the Brazilian MMA Athletic Commission (CABMMA) to inform them of the situation and shortly after, the Brazilian federal police were contacted (via MMAFighting.com).
CABMMA officials said they weren't aware of the random drug test. While Mosier is licensed by the Nevada State Athletic Commission, he did not have a visa that allowed him to work in Brazil. Mosier was slapped with a $130 fine and given eight days to leave the country.
Earlier today, Aldo was drug tested again and this time by an accredited World Anti-Doping Agency (WADA) tester. The urine sample will be sent to the Salt Lake City lab as would have the original test.
Aldo will defend his 145-pound strap against Irish sensation Conor McGregor on July 11 for UFC 189 in Las Vegas. The challenger and his coach John Kavanagh caught wind of Aldo's drug test fiasco and they weren't exactly enthused.
Only time will tell if all of this affects Aldo's eligibility to fight at UFC 189; so fans wait with baited breath and hope that PEDs don't ruin the biggest fight of 2015.