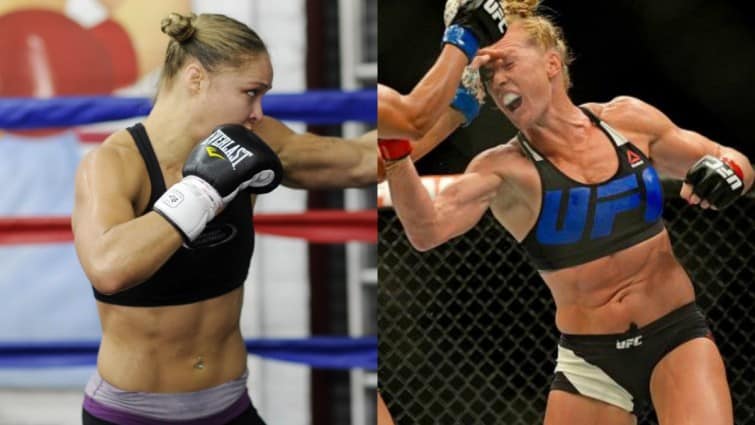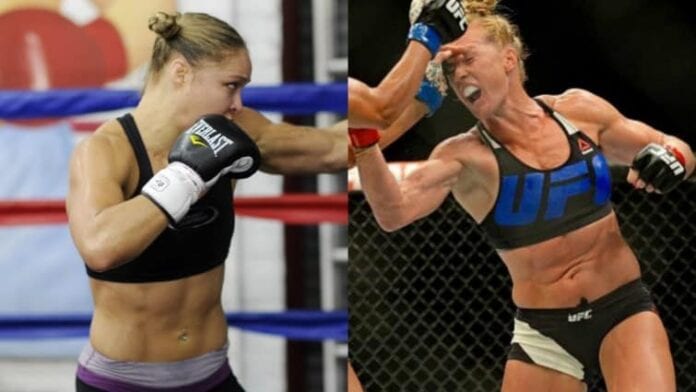 As November 14's potentially record-setting UFC 193 card from Melbourne, Australia 's 70,000-seat Etihad Stadium approaches, it's become blatantly obvious that Ronda Rousey is the most dominant fighter in all of the UFC.
The devastating "Rowdy" has finished all six of her fights in the Octagon, and appears to only be getting more devastating with each passing bout. Now she's going face off with another undefeated challenger in 17-time world boxing champion Holly Holm in the main event of UFC 193, and not surprisingly most are picking her to retain the belt in destructive fashion.
True, Holm is undefeated and was perhaps the most hyped prospect ever to be signed to the UFC women's bantamweight division, but she just hasn't shown the finishing power to be considered a real threat to Rousey, at least on paper.
However, there are some pivotal mistakes that Rousey's previous opponents made in their fights with "Rowdy," and in truth, Holm's strengths may actually be able to best utilize the key tactics to potentially beating the queen.
It will still be one of the most difficult tests in all of MMA nonetheless, and even if Holm sticks to and implements a perfect gameplan, she'll still obviously be in serious danger against Rousey and could still lose. But utilizing these five points of emphasis will almost certainly give Holm a better chance at victory.
Will it work? Maybe not. At least she'll have a shot though. Check out the five ways to (potentially) beat Ronda Rousey.

5.) Don't rush straight in, circle out:
Rousey loves to rush forward in a straight line and either clinch her opponents or bludgeon them with power punches, and those opponents have largely acquiesced to her strategy by heading right in and winging wild and much less accurate punches or their own.
A main key to defeating the champ will be to avoid this and circle out, something that Holm should be a master at because of her boxing background. Her head coach Greg Jackson will also most likely know this, so expect Holm to circle out of Rousey's range and pepper with quick shots as she avoids grappling with the queen.
It's going to be her only way to win.

4.) Low Kicks:
If and when Holm is successful in circling out of Rousey's range, she'll need to keep the champ at bay with a steady stream of low kicks. Rousey is obviously a transcendent grappler, but most of her takedowns stem from upper body-based judo throws, so throwing kicks at her legs won't invite a takedown as much as it would from a conventional wrestler.
Holm needs to take advantage of this aspect and use her long legs to keep Rousey from getting inside where a myriad of bad things could happen. Throwing and landing a heavy volume of leg kicks will be a huge part of that.

3.) Stick and move:
Building off of the first two ways for Holm to win, implementing a movement-heavy gameplan will also be paramount to win.
That includes not only the aforementioned circling away from Rousey' straight-ahead rush, but also to keep landing crisp, numbered combos that score points and wear down the champ over time. "Rowdy" has never been taken to deep water, and it's safe to assume her conditioning is on point and could last for five rounds, it's also fairly conceivable that Holm's best chance is to win a decision.
It seems like a highly unlikely outcome, and it might be. But if Holm is going to do just that, she's going to have keep sticking and moving to out-land the vicious champ on her feet.

2.) Avoid the clinch at all costs:
This would seem like an obvious way to potentially defeating Rousey, but it's even more so in the case of Holm.
Her grappling game is seriously in question, and while she's won her first two UFC bouts, she hasn't shown anything near the devastating finishing power that gave her massive hype in Legacy FC. Holm cannot go in to a firefight and get tied up in the clinch immediately; if she does, this fight will probably be over in under a minute.
"The Preacher's Daughter" and her team probably knows that, so they've no doubt been spending a ton of time training her to avoid getting tied up. Easier said than done, but a huge key to victory nonetheless.
1.) Above all-else, do not swing wildly and pray:
As mentioned before, Rousey's opponents have largely rushed in on a beeline and sloppily thrown wild punches at the champ with little chance of landing anything significant.
Miesha Tate was the only one who had any measured degree of success doing this, and she got submitted in the end. Her other opponents like Sara McMann, Bethe Correia, and Cat Zingano all also did this, and were either knocked out or submitted in shockingly quick fashion.
By now this tendency has to be clear and well known, and it would seem that Holm is smarter than that, especially considering who is coaching her. But when the bright lights go on and the cage door closes, it's hard to deny that otherwise elite athletes tend to freeze up, abandon their gameplan, and go for broke against Rousey.
Holm can't do that. She has to stay calm, stay out of range, keep circling, and landing low kicks and combos that add up over time.
If Rousey somehow makes a mistake and opens up the door for a knockout, obviously Holm will have to take it, but overall she needs to fight smart and efficient if she wants to have any chance of walking out of Etihad Stadium with the belt.