Five Reasons Conor McGregor Will Destroy Nate Diaz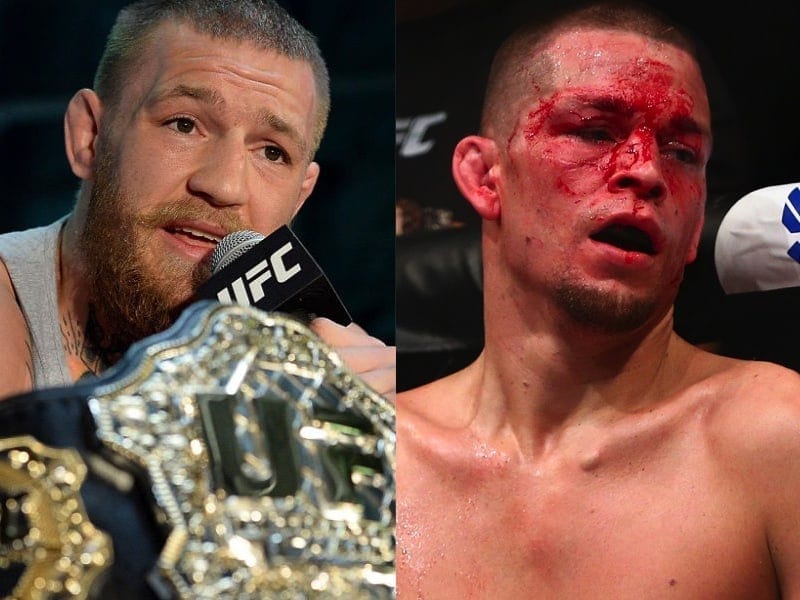 The buzz and anticipation is about to reach an all-time high for this weekend's (Sat., March 5, 2016) UFC 196 from the MGM Grand Garden Arena in Las Vegas, Nevada.
Featherweight champ Conor McGregor will face off with popular, enigmatic veteran Nate Diaz at welterweight, moving up an unprecedented two weight classes for the short notice bout that may even be more buzz-worthy and awaited than his original fight on the card, a lightweight title bout against injured 155-pound champ Rafael dos Anjos.
Having added what appears to be a massive amount of muscle onto his 5'9" frame to face dos Anjos, oddsmakers have McGregor as around a substantial -400 favorite (depending on which site you bet on). While Diaz' size, skills, and experience no doubt lead to some distinct ways for him to win that we detailed yesterday, there are some clear factors that also suggest McGregor is going to pick up the emphatic win the odds are predicting.
Let's take a look at the biggest reasons McGregor will destroy Diaz at UFC 196.

5.) A Full Camp:
Possibly the most obvious leg up McGregor has on Diaz is the fact that he was already preparing for perhaps the toughest fight of his career against dos Anjos.
Diaz fought and beat Michael Johnson in a rousing unanimous decision at December's UFC on FOX 17, and he looked in excellent in shape doing so. He and his brother Nick are also highly known for staying in shape in between bouts by training for triathlons, and indeed several photos of Nate looking fight ready have surfaced online during this week's heated buildup to the fight.
However, even more have surfaced of McGregor looking in insane shape after packing on tons of muscle and seemingly training all disciplines of martial arts at alarming rates. Diaz may be in shape, but McGregor has been getting in true fight shape for all of 2016 thus far, and that could most certainly give him a path to a decisive victory this weekend.

4.) No More Massive Weight Cut:
As mentioned in the previous reason, McGregor had been bulking up to face dos Anjos, but the opportunity to get even bigger arose when Diaz stepped in on short notice and made this a welterweight bout.
That could certainly play out against McGregor because he'll obviously be fighting much bigger fighters than he was all the way down two weight classes at featherweight, but then again, we've never really seen his full power after the draining cut down to 145 pounds that left him looking like he was on death's door.
He was a giant for the weight class, so envisioning him with even more thunderous knockout power is undoubtedly a scary thought. Short notice or not, Diaz is regarded as having one of the best chins in the stacked lightweight division, yet many still believe that the power of 'Notorious' will be too much to overcome.
We'll find out soon enough, but there's no question that McGregor has and will have more energy and strength leading up to the bout, and that's a big feather in his cap.

3.) Speed & Movement:
Much has been made of McGregor's movement training with Ido Portal. Poking fun of it in the media, the Diaz brothers might not make much of it, but make no mistake, it has lead McGregor to be in absolutely excellent and unique fight shape right now.
That was evident from the showmanship on display at yesterday's open workout session, and his training partner, UFC welterweight Gunnar Nelson said that McGregor may be even faster due to not having to constantly cut weight.
Nelson is a bit biased as McGregor's good friend for sure. However, the gymnastics training McGregor has been seen doing in pre-fight videos is most certainly beneficial and rigorous training that understandably took a page out of Georges St. Pierre's book.
On the other side of the coin, Diaz has never been known as that fast of a lightweight, and while his range might make it tough for McGregor to get inside like he did on the top featherweights, he should be able to use his elusiveness to evade him and his speed to beat him to the punch.

2.) A Mental Edge In The Trash Talk:
There may be a degree of mutual respect here, but as usual, McGregor has driven the trash talking with his venomous barbs that he always makes personal to a degree. Never was that more evident than last week's press conference, where McGregor branded Diaz a 'cholo gangster.' That may have gotten to Diaz just a bit, as he apparently took offense to McGregor poking fun of him teaching Brazilian jiu-jitsu seminars for children to expose martial arts to more people.
Diaz got in his own jabs with the stalwart stance that McGregor is on steroids, but overall it seems as if McGregor has been firmly entrenched in the driver's seat in this area as he usually is. Also in a bit of concerning news, Diaz admitted he 'might get merked' at a recent training video. While he could be attempting to lure McGregor into a false sense of security, that just sounds like something 'The Notorious' would never admit to the public for any fight.
Diaz may just be right when he says McGregor hasn't faced a 'real fighter' like him in the UFC, but so far, the Irish loudmouth has maintained an edge in the press, and that could translate into a mental advantage come fight time.

1.) Confidence:
The biggest edge McGregor brings over Diaz, and over any fighter in the world right now really, is his massive unshakable confidence.
He's risen to the absolute peak of the MMA world because of it, and it's his belief in himself that keeps him doing things like knocking out former featherweight champion Jose Aldo in 13 seconds. He believes that he is a belt himself, and given what the UFC has been letting him dictate in potentially tying up three weight classes, he has fully legitimate reasons to.
There will always be the question marks about McGregor's ground game that arose during his short notice bout with Chad Mendes, and with his only two losses in MMA coming by submission, he will be in danger from Diaz' elite black level jiu-jitsu. He isn't scared of that, or anything, for that matter, and that may be the biggest leg up he has on anyone else in fighting.
While the veteran experience of Diaz could make this a war that lasts far longer than McGregor's recent string of early finishes, his confidence may just make his move up to welterweight one of, if not the, most explosive debuts in Octagon history.