Five Reasons Bellator Needs to Dump Kimbo Slice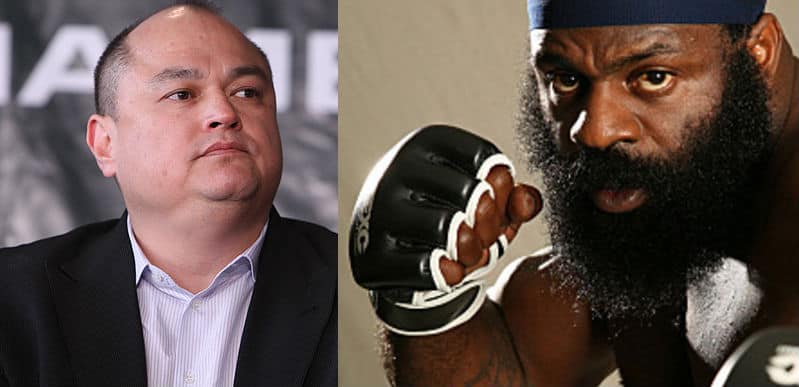 Kevin Ferguson is one of the most divisive figures in mixed martial arts. Most people with even a passing interest in MMA are familiar with his backstory.
The man known as "Kimbo Slice" gained stratospheric levels of fame nearly a decade ago on the strength of his backyard brawling skills. His YouTube fight videos have garnered millions of hits and made him an internet sensation. On the strength of his notoriety as a knockout artist, he has headlined and been featured on cards from EliteXC, UFC, and now Bellator.
But that fame has always far outpaced his actual skills in the cage. In fact, when not beating up amateurs in unsanctioned brawls, Slice has looked downright awful at times. His 14-second knockout loss to journeyman Seth Petruzelli effectively scuttled EliteXC. Look no further for an example of what happens when an organization recklessly invests in Slice.
Following a stint on 'The Ultimate Fighter' season 10 (in which he lost in the opening round) and a tepid decision victory over UFC washout Houston Alexander in his official debut, Slice was unceremoniously pounded out by Matt Mitrione in only "Meathead's" second pro bout.
Most recently in Bellator, several years removed from his MMA prime (such as it was), he knocked out the geriatric Ken Shamrock (after nearly being choked out), and then waged one of the worst fights in modern MMA history against Dhafir "Dada 5000" Harris.
But worse than merely giving Kimbo Slice fights, Bellator is making him one of their most-promoted fighters. This, despite a litany of arguments to the contrary. That's where LowKick comes in. We will elucidate those arguments and try to convince Scott Coker and Co. to see the reasons it's time to get out of the Kimbo Slice business.

1. He Popped for Steroids After Dada 5000 Fight
This one should be a no-brainer. Five months after popping for the anabolic steroid nandrolone and an elevated testosterone/epitestosterone level, Slice is slated to headline another Bellator event. How is this good business?
The Texas Department of Licensing and Regulation handed down a preposterous 90-day suspension (90 days, despite Slice's opponent nearly dying! What would they have done if Harris had actually died? Four months instead of three? More on this fight shortly.)
Every other even-somewhat-competent commission gives out one to two-year suspensions for the kind of thing Slice tested positive for. At the time the suspension was handed down, Bellator should have stepped in and dealt out its own punishment; a suspension actually in line with the offense. After all, Slice had just made a mockery of a major Bellator event.
Instead, Slice and the TDLR reached a settlement in which Slice agreed to have his license to fight in the state of Texas revoked and pay a fine of $2,500. This, instead of issuing a suspension that other state athletic commissions would honor, thus barring Slice from earning money through fighting; you know, the whole point of punishing an athlete for cheating.
The shambolic settlement Slice reached with the TDLR notwithstanding, Bellator elected to bypass the problem entirely by booking Slice to a fight in England. There, Bellator will be responsible for overseeing the fight. I have great confidence that everything will be above board…
All kidding aside, how is this a smart long-term promotional model for Bellator MMA? I understand that it wants to book Slice as often as possible because he's a ratings boon (for some reason), but there are serious drawbacks here. The organization looks shady to anyone who is paying attention (granted, those people must not be very numerous, considering millions tuned in to watch Slice fight some anonymous, amateurish dude with a similar backyard fighting background).
Foisting Slice on the masses again and again, just for him to test positive in the aftermath, makes Bellator look, at best, foolish, and at worst, complicit. That is, it would if he was being tested by a responsible commission in the first place.
But as I said, I'm sure everything will be on the up and up when Bellator oversees Slice's next fight in England. Actually, that brings me to my next point.

2. Promoting Slice Undermines the Product
As the second largest promotion in the country (and perhaps the world) and the UFC's primary competition, Bellator holds a distinguished place in the world of MMA. With gargantuan corporate backing and a national TV deal, Bellator is well-situated to continue to be influential in the sport. Recently, the organization has even been praised for providing fighters with a viable financial alternative to the UFC.
But if the company's primary strategy is trotting out old, shopworn, and/or amateurish fighters merely because they have big names, it will cease to be respected. At the end of the day, when all the eyeballs have tuned in, they have to actually watch the fight between two awful fighters.
What about watching Ken Shamrock vs. Royce Gracie or Kimbo Slice vs. Ken Shamrock would make any casual fan want to tune into Bellator ever again, much less on a regular basis? Fights like that are what give MMA a seedy reputation and make Bellator look like a joke, not a purveyor of a serious combat sport.

3. Promoting Slice Also Alienates Quality Fighters
With the move away from the tournament format championed by deposed CEO Bjorn Rebney, Bellator has become more reliant on big names to sell fights. No longer are their main attractions the quarter or semifinals of the featherweight or lightweight tournaments. This has led to Bellator scooping up past-their-prime UFC retreads like Josh Koscheck and Tito Ortiz with the intention of plugging them into featured bouts.
But as previously mentioned, Bellator has also managed to sign quality talent from the world's largest MMA promotion, like Benson Henderson and Matt Mitrione (along with quality fighters who fell out of favor with the UFC, like Phil Davis and Josh Thomson). There are even rumblings that Rory McDonald will engage in talks with Bellator after the final fight on his UFC contract.
But what would make a fighter of his caliber want to join an outfit that freely promotes freakshow fights, sometimes to the exclusion and detriment of its quality fighters? Obviously money is the primary factor, either through straight up salary or the opportunity to recoup lost sponsorships from the Reebok deal. But what confidence would a fighter like McDonald have that his career would be in the best hands, that he would be promoted correctly and to his full potential, when Kimbo Slice and Ken Shamrock are headlining major events?
Scott Coker and Co. didn't even bother with their classic bait-and-switch routine Kimbo's last time out. When he ran the now-defunct Strikeforce organization, Coker would commonly trot out the big name for the main event to attract the audience, but would have the undercard stacked with promising up-and-comers to introduce to the masses. Even that basic promotional tool has gone out the window under the current Bellator regime.

4. Slice Needs Other Subpar Fighters to Fight
This is self-explanatory. Bellator is not going to book Slice, and other fighters like him, against the type of guys normally on their roster. They need to sign other subpar fighters so their cash cows do not get completely blown out of the water.
Granted, heavyweight is a thin division. It's not as if Slice fights at lightweight. But he's not being booked opposite nominal contenders in the division; he's going up against Dada 5000 and journeyman James Thompson. But when Bellator signs fighters like that, it does so to multi-fight deals, meaning that after they have served their purpose (in the eyes of Bellator, that means getting pasted by Slice, hopefully), they still need other fights.
After fighters like Dada 5000 have fought the fight they were brought in for, do they just get relegated to the undercard? They are not draws in and of themselves, but doesn't punting them down to the prelims undermine the fights they previously had, namely the big ones with the stars?
Furthermore, other legitimate fighters are battling and trying to claw their way to the big leagues, and they see fighters being booked by Bellator that very clearly have not earned a spot there. Are they going to want to join an organization in which their road to advancement will be blocked by combatants they likely view as illegitimate?

5. Did You Even Watch Slice's Last Fight?
I'll just leave this here.
If you are truly a masochist, his 'fight' with fellow former backyard brawler Dada 5000, otherwise known as Dhafir Harris which sadly left Harris fighting for his life for weeks, is obviously reason enough for Bellator to stop promoting Slice as their main man.
Watch the full right here if you dare:
http://bellator.spike.com/fight/rjfio3/bellator-149-kimbo-slice-vs-dada-5000