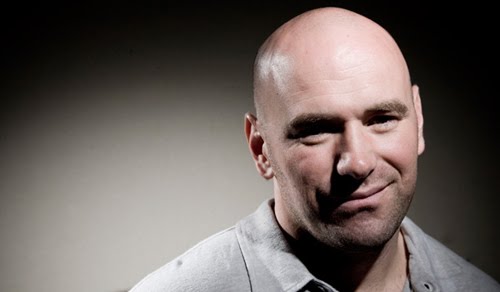 As soon as Joe Rogan put the mic in Chael Sonnen's face for the customary post-fight comments at UFC 136, it hit us: Sonnen is clearly the best trash talker in the history of the sport.
Everyone watching went bananas as "The American Gangster" challenged the pound-for-pound king, Anderson Silva, to a 'Loser Leaves Town' match. At that point in time there is nothing MMA fans wanted more* than to see that fight happen, Dana White included.
USA Today recently caught a word with UFC President Dana White where he told them that he "would be pretty f*cking stupid not to book Silva vs. Sonnen 2." It seems that Captain Obvious has reared his head once again to the delight of almost everyone.
This got me thinking about other things that, if left undone, would make Dana White pretty f*cking stupid. Keep on reading below and put me on blast for being a TUF Noob in the comments.
Roll Out the Official UFC Rankings
What do the NFL, MLB, and NBA all have in common? Besides lockouts. That's right! They all have an official ranking system so that we the fans know who has the best shot at taking the crown.
The UFC has no ranking set in place, which causes everyone to second-guess matchups and the reasoning behind it. This is especially troubling when a championship is at stake. Can you imagine Roger Goodell sending out a press release announcing this year's Super Bowl would feature the New England Patriots and the Detroit Lions without us first having witnessed firsthand that both teams have beat the best and actually earned a shot at the Lombardi Trophy? Of course you can't – it just wouldn't make any sense. Hell, I've seen the Lions play all season and I'm still not convinced that aliens aren't just playing a nasty trick on the Motor City faithful.
Jon Fitch is the poster boy for why rankings should be instituted in the UFC. Here's a guy who has racked up a five-fight win streak since losing to GSP back in 2008. Is he "in the mix" as all the cool kids like to say? Nope. As long as he puts winning ahead of entertaining, he'll always be on the outside looking in.
Fitch had this to say about the way title shots are handed out. "Where we stand with the sport right now is, we haven't yet clearly defined whether we are a sport or entertainment. I think at times matches are made that clearly define us as a sport then other times they make matches that are purely based on entertainment." Can't help but #cosign that one.
Recently news broke that Lyoto Machida would step in for an injured Rashad Evans against Jon Jones. Not only is does another #1 contender (is there really such a thing?) not get his rightfully earned crack at the champion, but he has recently been outspoken towards the UFC's lack of an official ranking system. Which brings me to the next thing you'd have to be f*cking stupid not to do…
*Make Jon Jones vs. Rashad Evans Happen (Preferably for the title)
This bout is every promoter's dream: two well spoken, sharply dressed, highly skilled, friends-turned-enemies fighting for the championship belt. According to some in the media, we would have gotten our Christmas present a few weeks early at UFC 140 when light heavyweight champion Jon Jones may or may not have been set to defend his title against former champ Rashad Evans on December 1oth had it not been for a lingering thumb injury.
Dana promised to make up for UFC 112 last year, teased us with Anderson Silva vs. GSP, Nick Diaz vs. GSP, and now Jones vs. Evans.
I am of the opinion that UFC 140 could have been headlined by almost anybody else and still done well because it's in Canada – they love this stuff. Jon Jones should have been given the holidays off to spend time with family and heal up like he wanted to which would have given 'Suga' more than enough time to heal his wounds and get ready for the task at hand.
I suppose that Zuffa would like to milk this cash cow for everything it's worth which might entail a stint of The Ultimate Fighter's first season on FOX for the two frenemies, but I'm impatient and want instant gratification. This fight needs to happen sooner rather than later if only to make up for all the empty promises that have been made to us in the past. Speaking of things Dana White has said, but then went back on….
Create a Women's Division in the UFC
Mr. White and company have led the world's most prominent mixed martial arts promotion to the promised land of network tv. With every market tapped except one, the UFC has done quite well for itself. However, for true MMA fans, the Octagon is not a one-stop shop.
Women's MMA has a few moderately well known names, and at least a handful of women who could help fill dilapidated fight cards if needed. These talented fighters have impressive finishes and big time sponsors. Look, we're not asking for them to headline events or even that women occupy more than one fight on every card… we just want to be able to watch the best fighters, regardless of gender, fight in the promised land that is the Octagon.
Initiate a Comprehensive Drug Testing Program In and Out of Competition
Do you know why everyone laughs at pro wrestling, I mean, besides their zany gimmicks and over "selling" each and every open handed strike? It's their steroid-fueled, freakishly large bodies that reminiscent of something created by Stan Lee. Oh, and that whole "predetermined" thing too.
If you think the average Joe knows the difference between sport and sports entertainment, think again. "Fixed" and "Fake" are two of the most popular words associated with MMA and the UFC more specifically. Getting a third party to administer random drug tests will help erase any doubt that mixed martial arts is a legitimate sport and further itself from pro wrestling in the minds of fans.
Mixed martial arts needs full blown drug testing to prevent cheaters from ruining it and doing unnecessary harm to the fighter's body. The Chief of US Anti-Doping Agency calls the drug testing in mma a joke. Let's have MMA be known as a forward thinking company and test all fighters under contract regularly, with and without prior notice, for HGH and PED's whether they are getting ready for a fight or not. Period. This will significantly reduce the chances of any more Nate Marquardt-like scenarios from happening from here on out.
Lastly, and I think I speak for everyone when I say "Dana White would be pretty f*cking stupid if he didn't…
Free CagePotato
This is easily the most obvious and monumental decision Dana White needs to make. CagePotato.com has a handful of guys who eat, sleep, and breathe MMA. We're the biggest UFC nut-huggers of all time; just ask the fine folks who leave us uplifting words of encouragement in the comments section.
Your fans absolutely loved seeing us at the Fan Expo in Boston and continue to support us by making funny signs to get your attention. We messed up. We apologized. Whattaya say, Mr. White, free CagePotato? Please.