After Bellator's second pay-per-view and another night of fights, there's much to glean from Bellator NYC.
From massive upsets to derailed hype trains and brutal knockouts, it was an action-packed night at Madison Square Garden.
Check out the five biggest takeaways from Bellator NYC!
5. Phil Davis vs Ryan Bader Will Never Be An Exciting Fight
Bellator went back to the well for their light heavyweight championship fight on Saturday, bringing back a fight no one wanted to see again.
Davis and Bader tussled with similar results back in 2015 in the UFC, with Bader eeking out a split decision win.
History once again repeated itself under the Bellator banner, as the two delivered another snoozefest that won't leave anyone asking for a trilogy between the two.
For whatever reason, when these two fight each other, no one wins, certainly not the fans.
Let's put this match-up to rest, even if the two are probably the best 205-pound contenders in Bellator right now.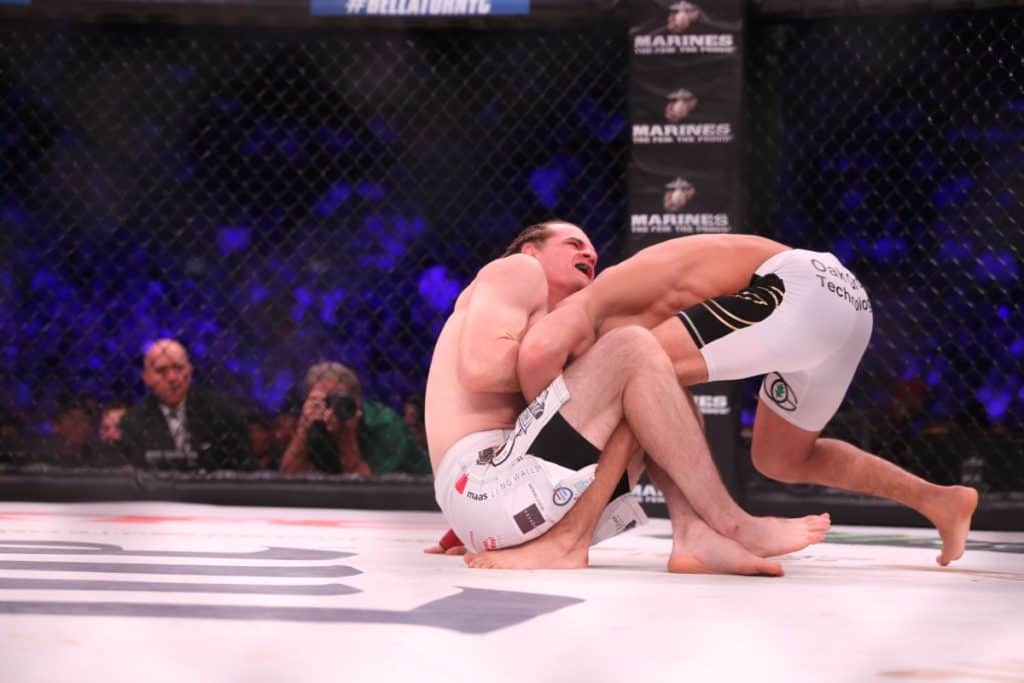 4. Zack Freeman Crushed Aaron Pico's Hype:
Zack Freeman deserves his own takeaway here, as he was brought in as a warm body for hyped 20-year-old prospect Aaron Pico to steamroll.
So much was made of Aaron Pico's MMA debut, which happened to coincide with his Bellator debut. The New York State Athletic Commission must have bought in to that hype big time, because why else would an 0-0 fighter take on an 8-2 fighter?
Freeman was absolutely under-marketed going into Bellator NYC, meaning no one knew how dangerous he really was. But with a slick uppercut and guillotine choke, Freeman ended the hype in 24 seconds. Freeman apparently didn't care for the hype, and ran through "MMA's best contender" with absolute ease.
Pico's extensive wrestling and boxing credentials in the world went out the window seconds into round one, signaling a brutal debut for the 20-year-old, who still has time to develop and recover from this career-wise.
Freeman advanced to 9-2 with the victory.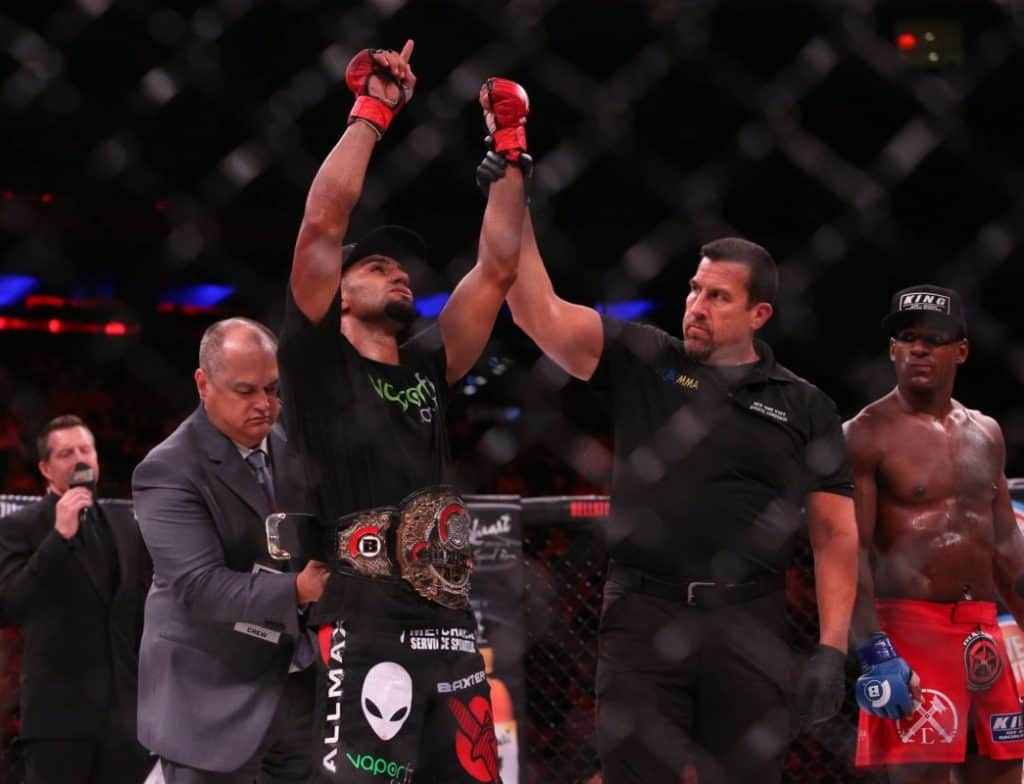 Douglas Lima vs. Rory MacDonald Is Bellator's Best Fight:
After Lima emerged with a decision win over a dangerous striker in Lorenz Larkin last night, it became obvious that the only fight to book for Lima next is a bout against former UFC title contender Rory MacDonald.
MacDonald got back into the win column by making his submission of the formerly surging Paul Daley look easy in his Bellator debut earlier this year, and he was clearly brought to Bellator to contend for the belt much sooner than later. A bout with Lima would be an interesting contrast of styles where the result would likely come down to which skillset between Lima's Muay Thai and MacDonald's grappling. "The Red King" wouldn't be counted on the feet, however, perhaps making MacDonald a slight early favorite.
And while Bellator obviously loves their main events packed with aging legends simply for name value, Lima vs. MacDonald is the best fight the promotion can make even if it isn't the biggest.
2. Fedor's Double Knockdown Wasn't Enough To Stop "Meathead"
For a longtime MMA fan, it was hard not to get excited for Fedor's return to MMA in North America.
After a disappointing run in Strikeforce that saw him drop three fights in a row, "The Last Emperor" then went back to Japan and his native Russia where he picked up a few wins before retiring from the sport.
So his return against Mitrione had some interesting anticipation behind it for old diehard fans. When Fedor and Mitrione both dropped about a minute into the first round, all hell broke lose.
Mitrione, being the slightly younger man, got up first and finished the job at 1:14 by knockout.
Will this be the last we see of "The Last Emperor"? Who knows, but at 34-5, the man has done enough in the sport to ride off into the sunset as he pleases.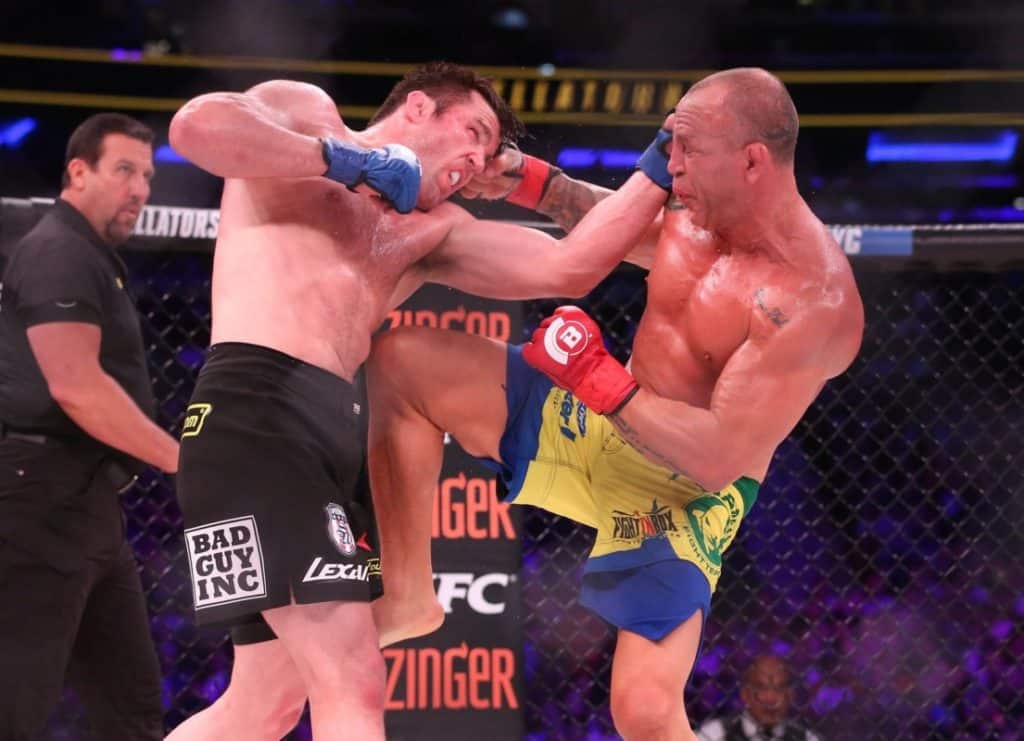 1. Wanderlei Silva's Ring Rust, End Of "Legends" League
By the time Wanderlei Silva made it to the cage on Saturday night, it had been about four years since his last professional fight.
That ring rust was on full display against Sonnen, who proceeded to take his adversary down over the course of three rounds to win a decision victory.
But the real takeaway here is the fact that although Sonnen and Silva took top billing, it's clearer now than ever that a "Legends" League won't carry Bellator much further.
While these big names may bring the eyeballs, they won't deliver in terms of exciting, relevant fights.
Even in victory, Sonnen was still battered and dropped by a man who hasn't fought since pre-Reebok UFC. That's a long time.
Perhaps this will be the last of Bellator's "Legend" fights, because Saturday nights main event didn't do anyone any favors.