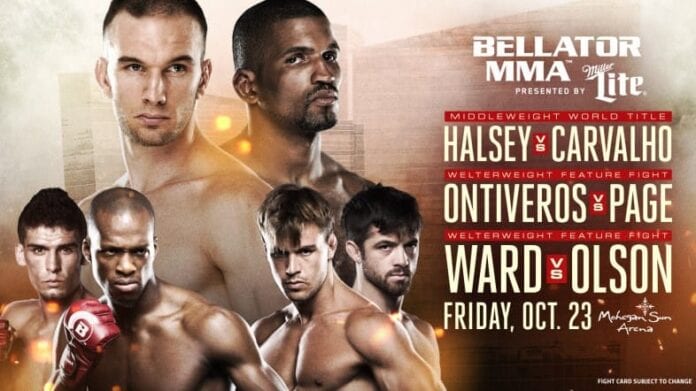 Bellator MMA returns to the spotlight when they hold their 144th event this Friday.
Bellator 144 takes place at Mohegan Sun Arena in Uncasville, Conn. The main card airs on Spike following prelims online.
The main card will feature four bouts with the title bout between Brandon Halsey and Rafael Carvalho as the main event while Dennis Olson vs. Brennan Ward has been bumped up to the co-main event. Also on the main card, Charlie Ontiveros vs. Michael Page and Isao Kobayashi vs. Goiti Yamauchi will take place.
The preliminary bouts start at 7 p.m. ET while the main card kicks off at 9 p.m. ET on Spike TV.
Down below is the finalized card for the event:
MAIN CARD (Spike, 9 p.m. ET)
Brandon Halsey vs. Rafael Carvalho – for vacant middleweight title
Dennis Olson vs. Brennan Ward
Isao Kobayashi vs. Goiti Yamauchi
Charlie Ontiveros vs. Michael Page
PRELIMINARY CARD (Online, 7 p.m. ET)
Matt Bessette vs. Kevin Roddy
Jeremie Holloway vs. Matt Secor
Marius Enache vs. Pete Rogers
Kin Moy vs. Walter Smith-Cotito
Billy Giovanella vs. Brandon Polcare
Keenan Raymond vs. Damien Trites
T.J. Hepburn vs. Sam Watford
Ilya Kotau vs. Kemran Lachinov
Kevin Haley vs. Mike Zichelle