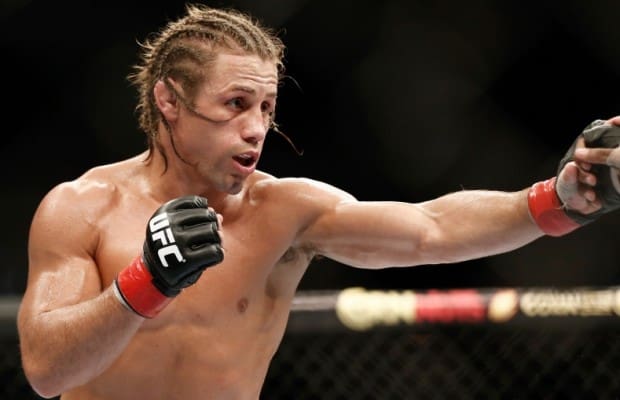 Long-time UFC featherweight champion Jose Aldo, and interim featherweight champion Conor McGregor will finally square off at UFC 194 on December 12, 2015, and it seems as if the opinions are quite mixed as to who will walk away as the undisputed boss.
Former WEC champion Urijah "The California Kid" Faber is quite familiar with both men, having fought and lost to Aldo, and now currently coaching against the "Notorious" one on season 22 of The Ultimate Fighter (TUF). However, he doesn't have a firm prediction on the fight either:
"It's up in the air for me," the ex-WEC champ and "TUF" coach told MMAjunkie Radio
Despite Aldo's lengthy reign as champion, it's no question that the brash, and outspoken McGregor is undoubtedly one of the biggest stars that the sport has ever seen. Although many fighters aren't fond of his style, Faber said plain and simple that the Irishmen is good for the sport:
"Conor winning is f-cking good for the sport," he bluntly put it.
Although they won't be meeting after TUF like the coaches have in the past, Faber did want to fight McGregor, and he admits that the "Notorious" one is the big money fight, and having him as champion would be tremendous for business:
"People f-cking love that guy, so I think the big money fights would be with him as champion," Faber said. "So (a McGregor win) makes a lot of sense. But I really like Jose Aldo. It's kind of a win-win for me."
Still fighting quite actively, "The California Kid" also remains as the head of Team Alpha Male, and his teammate Chad "Money" Mendes has fought both McGregor, and Aldo as well, recently losing to McGregor last July, albeit taking the fight on two weeks' notice. However, Faber believes that McGregor would ultimately be the easier fight for his guys:
"Who's the easier fight for some of my guys? I've gotta say Conor is," Faber said. "Aldo's really, really well-versed with takedown defense. You saw Chad (Mendes) was able to take down Conor at will. So having Conor win is a good thing for the wrestlers in the division and the sport in general. And Jose Aldo is a legend."
"The California Kid" is set to compete on that very same card in December, dropping back down to bantamweight to take on Frankie Saenz. Will Faber ever get a rematch with Aldo, or the chance to scrap with the "Notorious" one?