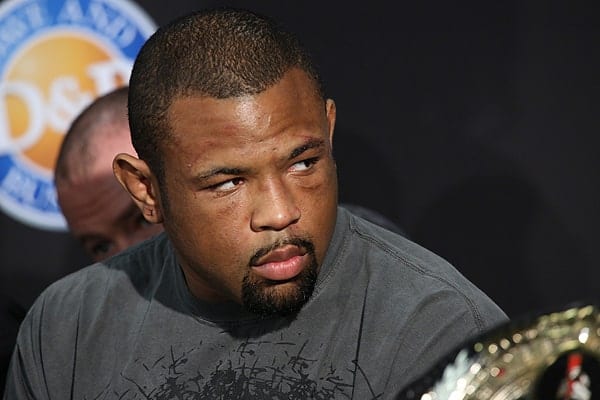 If it wasn't enough that Emanuel Newton lost his Bellator light heavyweight title to Liam McGeary at February's Bellator 134, news has arrived that he'll now have some time on the sidelines to think about the loss.
"The Hardcore Kid" has been suspended three months for testing positive for marijuana after his February 27 main event bout against McGeary from the Mohegan Sun Resort Casino in Uncasville, Connecticut, the Mohegan tribal athletic commission reported. The news was confirmed by MMAFighting.com today after The MMA Report initially broke it Thursday.
The punishment for Newton's use of marijuana was a bit more lax than we've seen when compared to those of the Nevada Athletic Commission (NSAC). Newton will be suspended for three months, fined $3,000, and required to submit a clean drug test before he is allowed to return.
Bellator CEO Scott Coker quickly issued a statement on the finding.
"It is important for all athletes to abide by the rules of the governing commission and we fully support the commission in their decision. We look forward to seeing Mr. Newton get back in the cage once he serves his suspension."
Marijuana use and the actual validity of its classification as a performance-enhancing drug (PED) is a hotly debated topic in today's MMA landscape. But it's still a banned substance, meaning that fighters will have to follow the rules in order to stay active and keep all of their fight purses, regardless of the athletic commission in control of the bout.
With several fighters losing time for simply smoking the 'grass,' is it time to re-think the punishment for fighters' marijuana use, even in relatively lax cases like this?