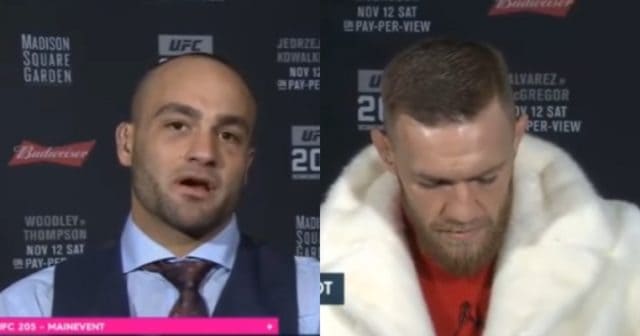 UFC 205 is all about making history and money. Looking to break the record as the first fighter ever to hold two belts at once in the UFC, Conor McGregor also leads the march for money at UFC 205. For the past three years McGregor has been crusading the fight for making big dollars, and is currently the highest paid fighter on the roster. For his UFC 205 opponent and lightweight champion Eddie Alvarez, it's not all about the Benjamins. Reportedly not renegotiating his contract for the bout with McGregor, 'The Silent Assassin' says he wants to KO McGregor for the good of the sport.
Alvarez also said 'The Notorious' is the easiest fight possible, and so the battle between a man hell-bent on dollars, and a champion who claims he is in it for the fight ensued. The confrontation between McGregor and top lightweight Khabib Nurmagomedov likely centred around the fact 'The Eagle' was knocked out of the running for a title shot due to the monetary attraction of 'The Notorious.' Although UFC 205 may have lacked the high pace drama and confrontational scuffles of a typical McGregor event, it's by no means lacking in deep story lines.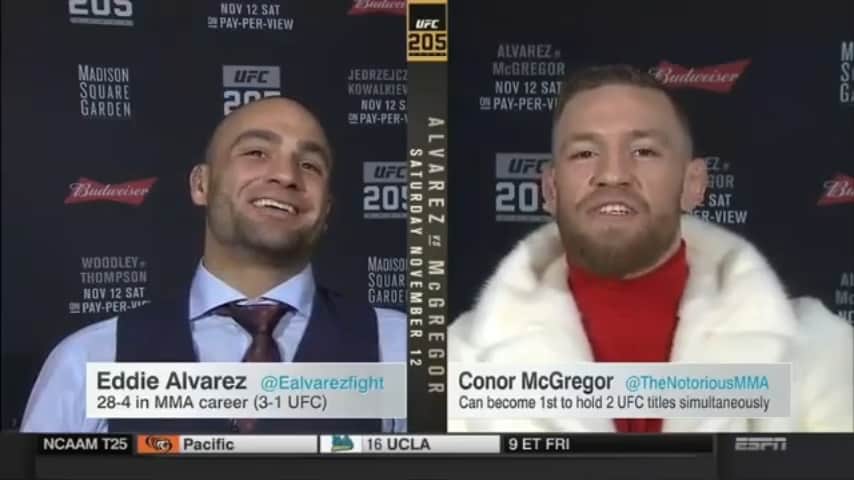 Alvarez Takes Shots At McGregor's Welfare
One well circulated story about Conor McGregor's past is his 'rags to riches' tale. Growing up in a poor background in his native Ireland, the featherweight champion once claimed state welfare to fund he and long-time partner Dee Devlin. Seeing an opportunity to mock McGregor, Eddie Alvarez accused the Irish striker of taking money from the pockets of single mothers.

"You took welfare bro, don't talk about money. You took money from single moms, single moms go on welfare, not men. You keep your mouth shut when he talks about money."
Ruthless! This isn't the only 'soul crushing' moment surrounding the UFC 205 banter this week. The following clip shows Conor McGregor firing shots at a report, Michael Lansberg, who'd asked at the UFC 205 presser if the drama had been staged. There'd apparently been a mix up, and this journo thought McGregor was railing him:

If you enjoyed this story, please share it on social media!