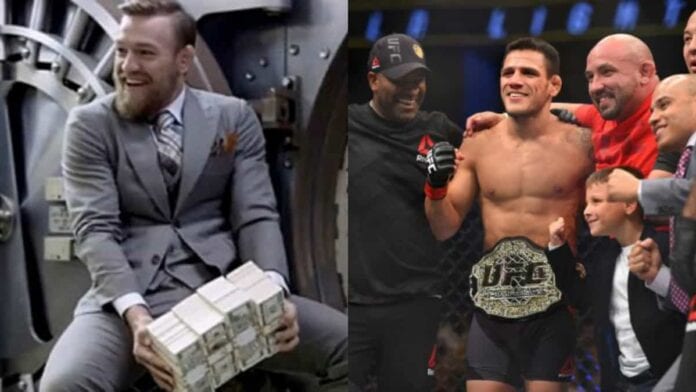 Reigning UFC lightweight champion Rafael dos Anjos put his title on the line for the very first time this past weekend (December 19, 2015) in the main event of UFC on FOX 17 from Orlando, Florida.
Dos Anjos made quite the statement, knocking out previously surging top contender Donald "Cowboy" Cerrone in just 66 seconds?
So what may be next for the Brazilian champion?
Well, there have been talks of what would be a big money potential super fight between current featherweight champion the "Notorious" Conor McGregor and dos Anjos.
The Irish hype machine McGregor finally took on former long-time 145-pound kingpin Jose Aldo in the main event of December 12's UFC 194 from Las Vegas, scoring a shocking 13 second knockout to become the undisputed boss.
Leading up the much anticipated bout, McGregor made it clear that his plan was to secure the featherweight strap before moving up in hopes of conquering the 155-pound division as well.
Now with dos Anjos scoring an emphatic victory, and the UFC already confirming that McGregor would receive a title shot if he indeed moved up, the stars have aligned for a massive showdown.
That being said, the "Notorious" one has actually opened up as the betting favorite. According to books 5Dimes and SportsBet, McGregor is currently a -160 favorite over dos Anjos.
The bout would sure provide an intriguing clash of styles between a vicious power puncher, and a decorated grappler turned striker as well as an extensive buildup to a scrap between two champions.
Who would you pick to come out victorious?