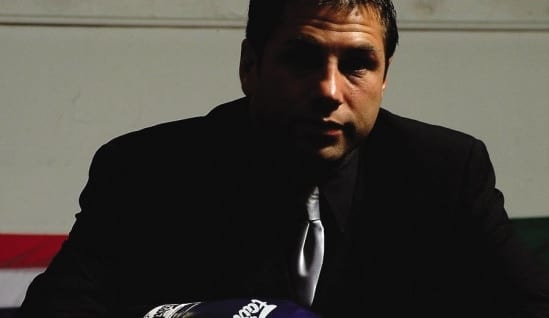 The Duke Roufus abuse allegations have come thick and fast this week……
World renowned trainer of the Pettis Brothers and Pat Barry, and former K-1 super heavyweight Duke Roufus has come under fire this past week, with multiple fighters and former members of his gym coming in to the frame. The accusations of mental and physical abuse at his gym seem shocking to say the least, and the disturbing footage of Roufus sport fighter Dennis Munson's death seem to have been the catalyst this week.
The officiating at the event, NAFC (North American Fighting Championship), was shocking. The NAFC is co-owned by Duke Roufus, and it turns out that the ringside physician caught on his phone while Dennis Munson collapses is a member of Roufus' gym. Read the harrowing accusations and see the video footage of the tragic event here.
In his defense, Rufous explained to MMAJunkie that the kickboxing event was unsanctioned because the local commissions were not interested in regulating it:
"But no one was interested in regulating kickboxing," Roufus said. "We had the opportunity to regulate it, and they chose not to. A lot of people don't realize that."
Unsanctioned or not, Rufous should have made sure that Munson had sufficiently trained officials in the ring and ringside; it may well have saved the young man's life had he not been allowed to fight that night. It looks like a combination of ruthlessly instilled, and somewhat jaded training methods, as well as third class referee Al Wichger and incompetent ringside physian Carlos Feliciano helped towards the evening's dark conclusion.
It also has been revealed that there were no pre-fight medical assessments of the combatants that night. Rufous then addressed the cascade of damning accusations that have been fired at him. They include former members talking about brutality in sparring including heavyweights knocking out lightweights, sustained verbal, physical and mental abuse, as well as a plethora of other bullying and financial 'heavy' tactics:
"It's hard," Roufus said. "I don't hate them. I'm disappointed. I mean Rose, you're doing great stuff on 'The Ultimate Fighter.' You have the ability to influence a lot of people, but if that's how you felt, why did you come to my gym to train in the spring, after Dennis had passed? This happened March 29. She came through after that to train with us."
"You know, when I see Rose (Namajunas) and (former UFC fighter) Pat Barry, they don't seem disgruntled," Roufus said. "They're very nice to me. Pat asked me advice at the last Glory (kickboxing) event. Rose came and trained at our gym in spring. Eric Schafer, I know we've had some issues. I've tried to reach out ever since he left Roufusport, and he didn't want to ever sit down and chat with me. It's tough."
"I have a hard time putting it into words, because it hurts," Roufus said of Munson's death. "I have a huge hole in my heart with the loss of Dennis. The harsh reality of combat sports hits home sometimes, and it's hurtful. … It's awful, and we all hurt over here."
Hmmmm….at no transcribed point does Roufus actually deny any of the allegations.
Whatever the case, a man has died due to a number of issues that really need to be addressed; Primarily, unsanctioned events should no longer happen, regardless of which level the sport is taking place at. Combat is dangerous, and has inherent dangers as highlighted in this disturbing case, and finally, the accusations launched at Roufus seriously need to be properly investigated.
How this will impact fighters associated with Roufus sport is unknown, but there will be a cloud of sorts until the truth has been discovered. Again, this is a sad time for combat sports, but lessons must be learned, and the whole truth needs to be told.
Follow @Rorylowkick

Follow @LowKick_MMA

Tweet