Dong Hyun Kim Edges Tarec Saffiedine In Las Vegas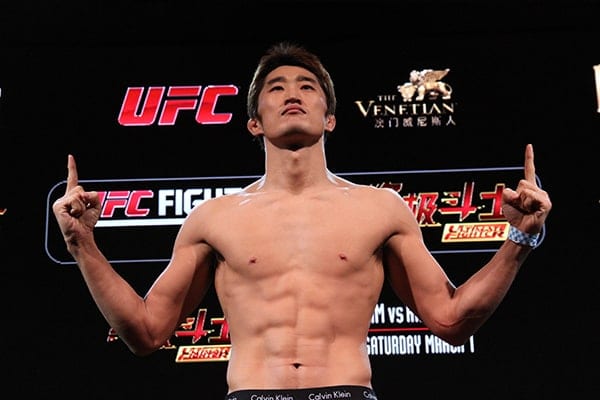 When Cain Velasquez was forced to pull out of his heavyweight rematch with Fabricio Werdum, it opened the door for two welterweights to make a statement on the UFC 207 main card. The two 170-pounders were Dong Hyun Kim (22-3-1, 1 NC) and Tarec Saffiedine (16-6).
The two exchanged to start with Saffiedine getting in some punches. Saffiedine tripped his opponent. Kim went for a judo throw, but Saffiedine stood in control. They broke apart from the clinch. "The Stun Gun" popped his opponent with a jab. The last Strikeforce welterweight champion wasn't afraid to grapple with the Judoka. Kim worked for a single leg takedown, but couldn't get it. The round ended later on.
Kim was in search of a lead uppercut in the second stanza. He walked down his opponent and pressed him against the fence. "The Stun Gun" got in a right hand to the chin. Saffiedine went high with a kick but it was blocked. Another right hand landed for Kim. A leg kick followed by a knee to the body found the mark for Saffiedine. The round ended to a chorus of boos.
Both fighters swung wild to start the final round. A knee to the body landed for Kim. He pushed his opponent against the fence. He went for a takedown, but couldn't complete it. Some short elbows landed for Saffiedine. An uppercut landed for Kim. Saffiedine found his back against the fence again. "The Stun Gun" briefly took his opponent down, but they broke apart. Kim dropped down and secured a takedown. The final horn sounded with Kim on top.
The judges were split, but "The Stun Gun" pulled it off.
Final Result: Dong Hyun Kim def. Tarec Saffiedine via split decision (27-30, 29-28, 29-28)