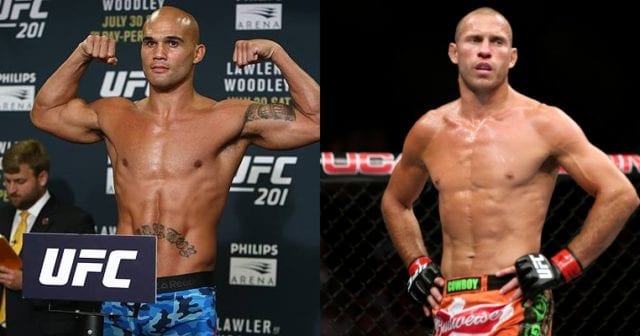 Donald Cerrone is set to take on No. 5-ranked Kelvin Gastelum at this Saturday's (Nov. 12, 2016) UFC 205 from New York, but he was originally scheduled to take on No. 1-ranked former champion Robbie Lawler, although Lawler was forced to withdraw from the bout shortly after agreeing to the terms.
Despite being disappointed that the fight was called off, "Cowboy" hasn't lost any respect for the "Ruthless" one, and he admits that a bout with Lawler would be 'a hell of a fight':
"I still respect the sh-t out of the dude. He's a good friend of mine, I have more respect for him calling me first and letting me know, that tells you how he is. This is a guy that would be a hell of a fight," Cerrone said via MMA Fighting.
When it was reported that Lawler had pulled out of the fight, fans were a bit confused as it wasn't exactly made clear why he wasn't able to fight. In fact, a reason has still yet to be given, although Cerrone feels as if it has to do with the fact that the ex-champion is coming off of a brutal knockout loss to Tyron Woodley just last July:
"I don't know mentally what was going on with Lawler, he's not really a guy that pulls out of fights," Cerrone said. "He's a tough dude. What I think might have happened, maybe he got rocked in sparring, or maybe his head wasn't all the way healed up. Maybe there wasn't enough time."

"Those are just things I'm making up, I don't really know what was going on with him, those are just things that can happen."
If Cerrone can get by Gastelum, he will extend his winning streak to four since moving up to 170-pounds earlier this year, making a bout between him and Lawler still a possibility.
If you enjoyed this story, please share it on social media!