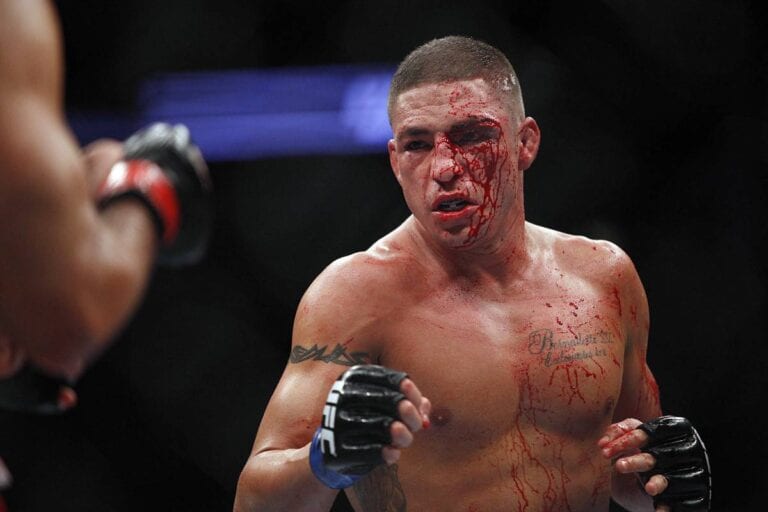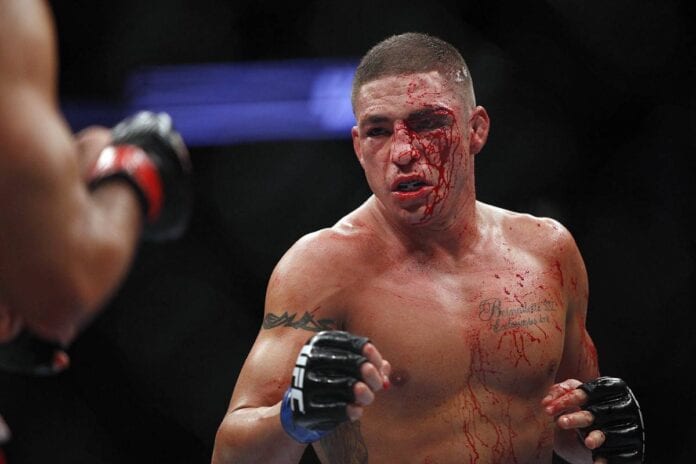 Believe it or not, The Ultimate Fighter (TUF) 1 winner Diego "The Dream" Sanchez is still around and competing in the UFC nearly 10 years later, and he is making a change that he believes will benefit his career.
Sanchez has lost two out of his last three, and has not competed since June 2014 when he scored an extremely controversial win over Ross Pearson. The majority of his recent fights have been at lightweight, but it was recently reported that "The Dream" would drop down to 145-pounds, and meet former title challenger Ricardo Lamas.
Speaking on his decision to drop down in weight on a recent edition of the MMA Hour, the New Mexico native stated that he was tired of being the smaller guy, and for once would like to be the bigger fighter with more power and stronger wrestling:
"That's where the sport has gone right now," Sanchez said Monday. "Everybody is cutting weight. I see 155-pounders who are big. These guys are big. Even just seeing Nate Diaz in real life, he's a guy, he's big. He looks 180-190, maybe even 200 pounds. So for me, I'm like, well, I'm tired of being the small guy. I want to be the big guy. I want to be the guy with more power. I want to be the guy with better wrestling."
Continuing on, "The Dream" referenced fighters like Jon Jones, and Luke Rockhold, who have very long reaches, as fighters he would like to emulate, and by moving down in weight, Sanchez believes he will finally hold advantages like this:
"I see all these long, strong wrestlers, like Luke Rockhold, Jon Jones — they're wrestlers but they're long," Sanchez said. "They have long distance, long reach. And for me, my whole career — I started at 185, I dropped to 170, I fought most of my career at 170 — even at 155, I feel like I just have always been the smaller guy. A smaller, shorter guy playing the same gameplan, trying to get inside of the long reach and get people down to the ground."
The UFC's featherweight division has never been more intriguing and compelling, and that's mostly due to now interim champion and Irish superstar the "Notorious" Conor McGregor, who actually has influenced Sanchez. "The Dream" noted that he and McGregor are actually similar in size, and to see the "Notorious" one hold size advantages over fellow 145-pounders made the move a no brainer for Sanchez:
"And all in all, the real truth is, when I saw Conor McGregor drop down to 145, the guy is my size, if not bigger. Straight up. The guy is my size, if not bigger. And I was like, wow, look at this guy, he's holding a huge size advantage going into all of his fights. He has the reach. He has the leverage. It just made sense. To be able to see someone my size do it and do it effectively and do it correctly, it just made sense for me to do it."
As one of the wildest and most exciting fighters in UFC history, "The Dream" has become a fan favorite over the years. Could we possibly see a rejuvenated version of the TUF 1 winner? Does Sanchez have one last run left in him?