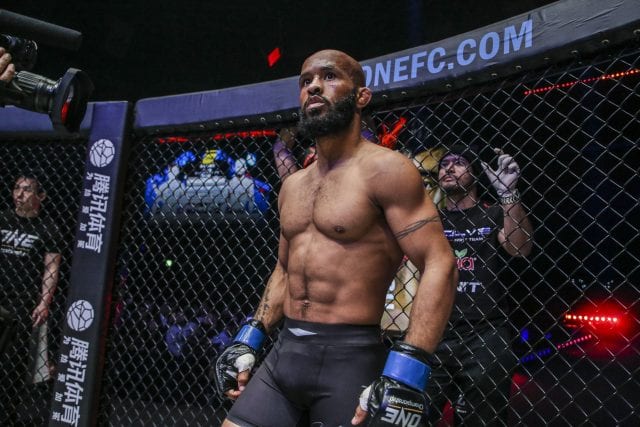 Demetrious Johnson secured an impressive submission win over Yuya Wakamatsu (watch it here) on the main card of today's (Sun., March 31, 2019) ONE Championship: A New Era from Ryōgoku Kokugikan in Tokyo, Japan. It's time Johnson reacts to his ONE Championship debut.
Speaking at the A New Era post-fight press conference, Johnson said his ONE debut exceeded his expectations. He grew up watching Japanese MMA like Pride FC, so it blew him away to compete in Japan in the ONE Flyweight Grand Prix:
"It exceeded my expectations. You know, I grew up watching Japanese mixed martial arts, you know, Pride. Seeing Shogun, Cro Cop, Wanderlei Silva, the Openweight Grand Prix. And for me to come over here and compete in the Flyweight Grand Prix in ONE Championship where it first started, that style and format of competition, I'm just blown away."
Overcame His Fear
'Mighty Mouse' said he wasn't sure he'd ever be competing in Japan even though it was something he wanted to do. He was previously concerned with the time difference, so overcoming that fear was amazing:
"I never thought in a million years I'd be over here competing. I was honestly scared, to make the, not the transition, but in the beginning of my career I was scared to go overseas to fight because you had, you know, the time difference. There's a lot that goes into it. So my first event, being able to come over here and compete for ONE Championship, it was amazing."
Focused On Flyweight GP
With his first ONE fight out of the way ending in an impressive victory, 'Mighty Mouse' shifted focus to the other flyweights in the ONE Grand Prix. He said the 125-pound fighters who won at A New Era looked good, so he would watch them fight while he competed in his bracket:
"Yeah, they were great matches. Danny Kingad looked good against Senzo Ikeda and Kairat Akhmetov looked good against Reece McLaren. Both great fights. Now those two will fight and I'll fight the gentlemen in the other brackets that had some injuries. So, great fights all around."
If you enjoyed this story, please share it on social media!