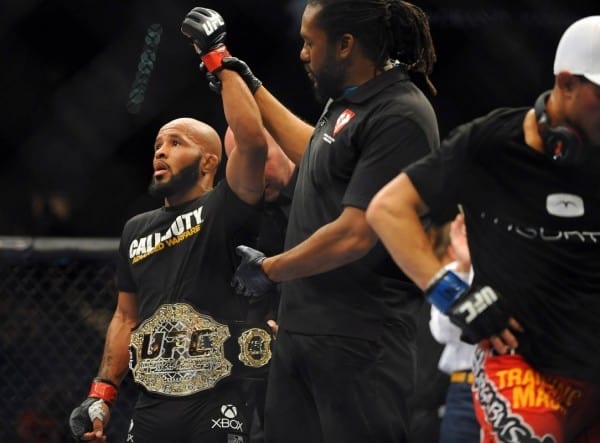 The old story goes that, as one of the top pound-for-pound fighters in the world, UFC flyweight champion Demetrious Johnson isn't getting enough attention because he isn't a big enough draw.
When injuries forced the headliners out of the main event of his last two cards at last September's UFC 178 and this Saturday night's (April 25, 2015) title defense against Kyoji Horiguchi in the main event of UFC 186, "Mighty Mouse" was left to pick up the pieces of cards that had fallen apart by no fault of his own.
All he's been doing is dominating his division with relentless precision, yet that seems to be far from enough for the fans in Montreal. News just arrived that half of the Bell Centre unfortunately had to be closed down due to low ticket sales. That's not Johnson's fault, however, and even despite his low numbers, he puts himself on par with another dominant fighter who's on the other end of the spectrum in terms of mainstream attention.
During a recent interview with FOX Sports 1's "America's Pregame," Johnson put his skills right up there with UFC women's bantamweight champion Ronda Rousey:
"Mighty Mouse" recognized Rousey's talent and finishing ability, but he also believes that she's perhaps faced a caliber of opponent a bit lower than the foes he's been trouncing routinely:
"It's hard. Ronda, she's going out and just blowing through people, but I think you see a true champion's caliber when he's tested by his opponents that are put in front of him.
"My [John] Dodson fight. My second Joseph [Benavidez] fight. My [John] Moraga fight. My Ali Bagautinov fight. Those guys are studs. I'm not taking anything away from Cat Zingano and Miesha Tate, but those guys are studs. Don't get me wrong, she goes out and destroys her opponents but I think you have to see a champion go through that hardship to see if they really have that championship caliber. She's a champion, I'm not saying she's not a champion, but I'm going to say it's me, dammit."
Johnson is confident that he's the more dominant fighter, as any true champion would be. When Rousey's list of opponents is put up against "Mighty Mouse's," it hard to say that "Rowdy" has run through a tougher gauntlet of challenges.
But Johnson believes that a champion is defined by his or her ability to rise up in the face of adversity, and well, he just hasn't had to rise above that during his time as the undisputed 125-pound king.
That's probably because he's just that good, and even though he's facing the clear next-best flyweights in the world, they just can't seem to hang with his all-around, talent, conditioning, skills, and determination. It appears that not all that many people will be tuning in to watch "Mighty Mouse" this weekend, and they'll be missing out on one of the best fighters in the world if they do not.
Photo Credit: Stephen R. Sylvanie-USA TODAY Sports