Demetrious Johnson heaps praise on Sean O'Malley after KO win over Aljamain Sterling at UFC 292: 'He found the chin'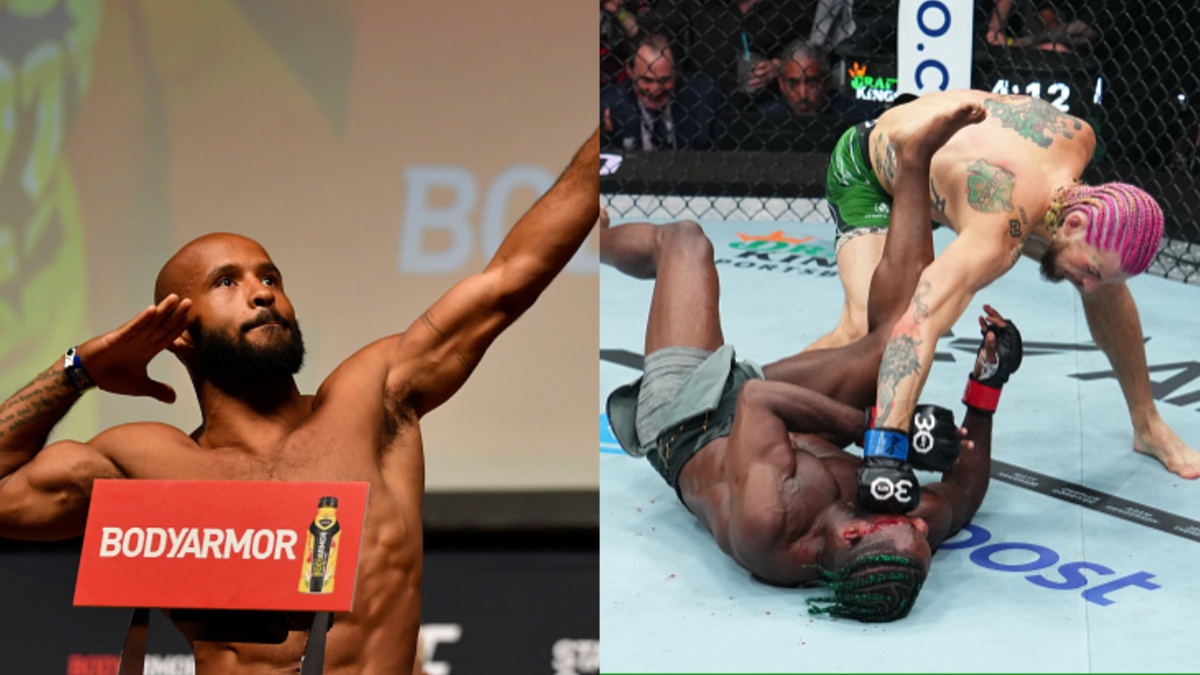 After Sean O'Malley's insane finish at UFC 292, the bantamweight GOAT Demetrious Johnson has released a video breaking down the terrific knockout of Aljamain Sterling.
O'Malley and Sterling threw down after a tumultuous buildup. Sterling claimed he was going to expose O'Malley, while 'Suga' begged to differ. Each fighter was confident in their abilities and felt like once locked in the cage, they'd be able to prove themselves against one another.
The first round was extremely competitive. Neither fighter looked to have obtained an edge over the other, and they swapped strikes as they continued to try and figure the other out. When they went back to their corners, neither fighter was chastised much by their team. In fact, each corner felt pretty good about the first round and sent their fighter to see the second without requesting major changes to their strategy.
However, Aljamain Sterling's corner would give him a bit of advice that would prove to be the difference maker in the fight. Aljo's team asked him to hold back a bit as far as pursuing O'Malley around the cage goes. They felt that since he was the champion, he shouldn't be the one rushing in and pushing the action. They wanted him to continue to pressure 'Suga', but not lunge forward and over-extend himself to create contact. This would prove to be great advice, and sadly it was something Sterling was unable to follow.
Demetrious Johnson breaks down the Sean O'Malley knockout of Aljamain Sterling
Rushing in with a punch, 'The Funkmaster' would overextend himself, landing himself in a predicament where he couldn't stop his momentum from moving forward. He ran right into a masterfully placed right hand by Sean O'Malley, and Sterling was just lucky it didn't completely shut the lights out. 'The Funkmaster' would crash face first into the canvas, dropped. And the rest was history. Sean O'Malley would follow up the right hand with some vicious ground and pound, and eventually, the referee Marc Goddard would stop the action.
The bantamweight GOAT Demetrious Johnson would give his reaction on Youtube, where he posted a video breaking down the knockout and showing his live reaction to it.
"Ohhhh sh*t!" Demetrious Johnson exclaimed as he watched the knockout. "…He's out, he's f****** out. He's still in. Pass guard, pass guard! Oh fu*k. He's done… He (Sean O'Malley) found the chin."
"Had Sterling overextended, and then he found the chin," Mighty Mouse continued. "That's what 'Sugar' Sean O'Malley said he was going to do. Find the chin, when you (Sterling) overextend, and that's what he said he was going to do."
Johnson would continue to speak about the viral knockout, saying that Aljamain Sterling definitely made a mistake in overextending against somebody looking to primarily counterstrike against him.
"The best thing you could do against somebody looking to counter-strike against you is just walk forward with your hands up," Demetrious Johnson explained. "Don't try and punch across distance, walk across distance. When you're punching across distance and the person is backing up, that's when you're going to get dropped. I know, cause that's how I got dropped by John Dodson… Adriano Moraes… I learned my lesson."
What do you think about Demetrious Johnson's reaction to the Sean O'Malley knockout, and do you think it was an early stoppage?