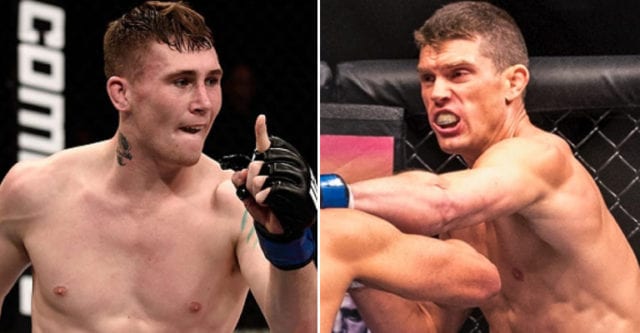 UFC welterweight contenders Darren Till and Stephen "Wonderboy" Thompson will square off in the main event of UFC Liverpool on May 27.
Till is supremely confident that he will defeat two-time former title challenger Thompson, whom he says was forced "kicking and screaming" into taking the fight after publicly declaring he wanted a bigger name.
Till believes his 35-year-old opponent, who came up short twice against Tyron Woodley for the welterweight title, didn't have any interest in taking the fight with him, which will ultimately play to his advantage Till told MMANytt:
"I think 'cause [Wonderboy] didn't want to take this fight he's been talking a bit more out of tame lately. Not bad, 'cause you know, he's not a shit talker, he's not a bad person he's a nice guy. But just 'cause I feel like he was forced into this fight he didn't want to take it. But he's still comin', and he's comin' to beat me on home turf and we'll see, mate."

"I truly believe I'm gonna stop him in the second. It wouldn't surprise me if the first. I truly believe I'm gonna stop Stephen Thompson. He might say otherwise, you know, get off me high horse, 'kid, you're not experienced like I am'. He can say what he wants to say."
Till is coming off of the biggest win in his MMA career after stopping Donald "Cowboy" Cerrone in the first round of their UFC Poland match-up last October, and is looking to seize that momentum with a following upset over "Wonderboy."
Like Thompson, "Cowboy" is 35, which Till says will also be to his advantage come fight night, as the Englishman is 10 years younger than his more experienced opponent. Regardless of the experience and name recognition that age brings, Till believes there's no way any 35-year-old can hang with him:
"There's no 35-year-old man out there who can f-ckin' last more than three rounds with a guy like me right now."
Will Till make good on his brash prediction and actually knock out "Wonderboy"? If you enjoyed this story, please share it on social media!