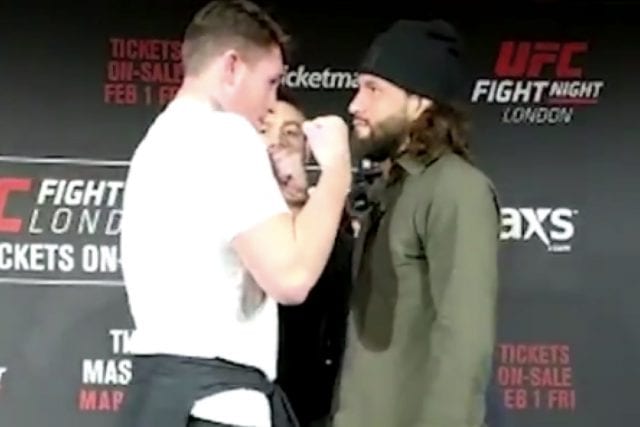 Earlier today (Fri. March 15, 2019) the UFC London ceremonial weigh-ins went down.
Tomorrow the action will all commence from the O2 Arena in London, England. In the main event, former UFC welterweight title challenger Darren Till faces off against Jorge Masvidal. The pair faced off for the final time before they fight tomorrow. Check it out here:
Till comes off the first professional defeat of his mixed martial arts (MMA) career. He was submitted by Tyron Woodley in the main event of UFC 228 in Texas. Now, after briefly considering a middleweight jump, the Englishman is back at 170 pounds to welcome back Masvidal.
"Gamebred" hasn't fought since November of 2017. He was defeated by Stephen "Wonderboy" Thompson via unanimous decision at UFC 217. The loss marked Masvidal's second in a row. Now, he hopes to get back into the top 10 of the division with a win over the No. 3-ranked Till. Make sure to keep it locked with LowKickMMA during UFC London for the latest coverage of the event!
If you enjoyed this story, please share it on social media!