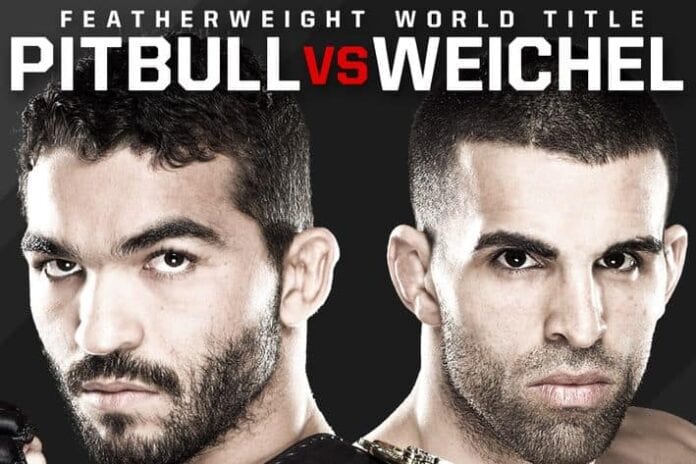 Bellator 138 has had a switch around in the featherweight title fight, originally scheduled to feature a rematch between Georgi Karakhanyan and Patricio Freire. "Pitbull" is the current 145-pound champion over at BMMA, and will instead face Daniel Weichel on the June 19th card.
Karakhanyan, reportedly out due to a knee injury in training, has been on fire lately. Going 10-1 since April 2011, "Gogo" most recently defeated Bubba Jenkins at Bellator 132 by submission. He'll have to wait out to avenge his Bellator 37 loss to Freire, as "weasel" takes his spot this summer.
The German BJJ black belt Weichel is arguably the best possible replacement; sporting a 35-8 overall record, he most recently beat Pat Curran by split decision at Bellator 132."Pitbull" is on a six fight win streak, three by knockout with one submission.
Check out how the still decent looking Bellator 138 card looks now:
Main Card
Bellator Heavyweight Main Event: Kimbo Slice (4-2) vs. Ken Shamrock (28-15-2)
Bellator Featherweight Title Fight: Champ Patricio Pitbull (23-2) vs. Daniel Weichel (35-8)
Bellator Featured Heavyweight Fight: Bobby Lashley (12-2) vs. James Thompson (20-14)
Bellator Featured Lightweight Fight: Michael Chandler (12-3) vs. Derek Campos (15-4)
Preliminary Card
Bellator Welterweight Prelim Fight: Justin Guthrie (17-8) vs. Steven Mann (10-1)
Bellator Strawweight Prelim Fight: Miles McDonald (0-1) vs. Dan O'Connor (5-4)
Bellator Lightweight Prelim Fight: Malcolm Smith (4-4) vs. Luke Nelson (2-1)
Bellator Featherweight Prelim Fight: Kain Royer (1-1) vs. Enrique Watson (1-0)

Follow @Rorylowkick

Follow @LowKick_MMA

Tweet