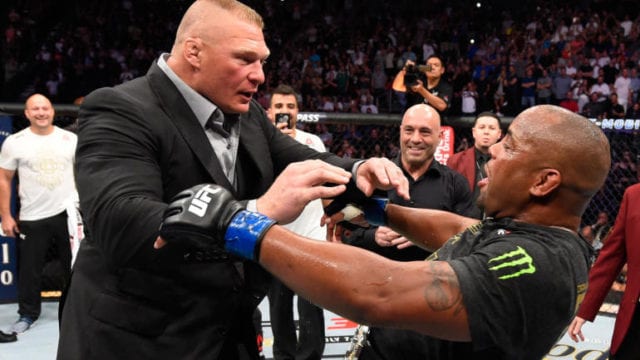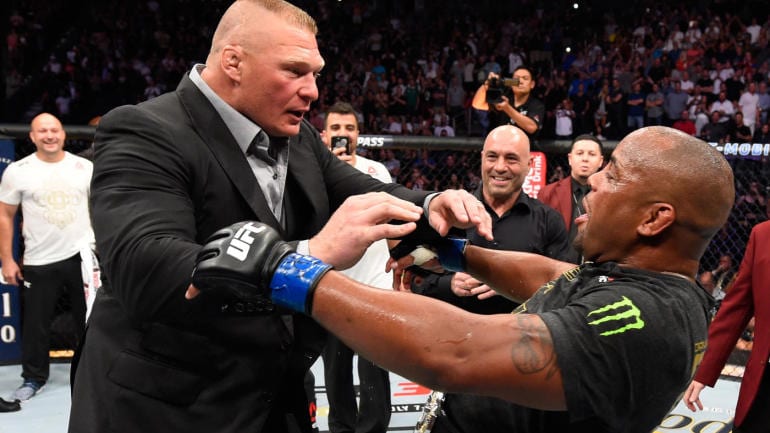 Daniel Cormier will not let the actions of Brock Lesnar at UFC 226 go unanswered.
Former UFC heavyweight champion and current WWE universal champion Brock Lesnar made an appearance at this event and made it clear what his intentions were.
As seen in the main event of Saturday's (July 7, 2018) UFC 226 pay-per-view event at the T-Mobile Arena in Las Vegas, Nevada, Cormier was able to score a KO win over Miocic to win the UFC heavyweight title.
Then, things got out of hand. Cormier invited Lesnar inside the Octagon with Lesnar accepting the invitation and shoving Cormier in the process.
Following the fight, DC gave his take on the situation and his upcoming fight with Lesnar that has yet to be made official. Keep in mind that no date for this fight has yet to be revealed as well.
"I run sprints before every fight, we find a hallway and I bust out as many sprints as I can to get my heartrate up," Cormier said at the post-fight press conference (transcript courtesy of MMAMania). "As I was walking back into the arena I saw Brock Lesnar walking behind me so I'm like 'Huh, what's Brock Lesnar doing here,' you know? And then when I'm in the Octagon waiting for Stipe he was standing there kind of smirking at me. So I was like 'Oh, so I guess Brock Lesnar is here to pick a fight.' So I called him out. I've known him for a long time, and I told him I'd kick his butt, and I will kick his butt when we fight."

"I've known Brock since 1997, that's why when he pushed me like that it was very odd," Cormier said. "Brock and I wrestled in the 1998 Junior College finals together. I was 197, he was the heavyweight champ. Then when he was at Minnesota I was at Oklahoma State so we wrestled each other twice a year at duel meets, not against each other but the teams wrestle each other. And then when Brock was wrestling WWE, he was always great to me and my family. We go to the matches, he'd take pictures with my kids. I guess when you step in the Octagon, your emotions are raised a little bit."
Cormier has made it clear that he wants to hang up his gloves by March 20th, 2019, the day he turns 40 years old. Thus, the reason he believes that he can only accept two fights before then.
He has gone on record by stating that he wants to fight Lesnar, which appears to be in the works, as well as trilogy fight against Jon Jones.
In the post-fight presser, UFC President Dana White said the heat between Lesnar and Cormier came from their amateur wrestling days. However, DC has a different take on their relationship.
"You got a guy like Brock Lesnar in front of you and you don't go crazy on him? Are you crazy?" Cormier said. "When Brock decided to step into the Octagon with me, he's a pro wrestler, he does fake fighting. So I'll do fake fighting with you until I put my fist upside your face. I'll do fake fighting with you, Brock, and then I'll punch you upside the head."

"Brock Lesnar is the champion of the WWE, so when he comes over here there's no script," he said later. "There's no Vince McMahon saying 'DC, lay easy on the punches!' There's no Braun Strowman that, when Brock punches him hard on purpose, isn't going to respond. The moment Brock Lesnar punches me, I'm going to get in his ass and I'm gonna have him running across that Octagon like a lot of those other dudes did."

"So he can be big and bad and tough right now, but when that cage door closes he's going to have to answer for his words, and he's definitely going to answer for that shove."