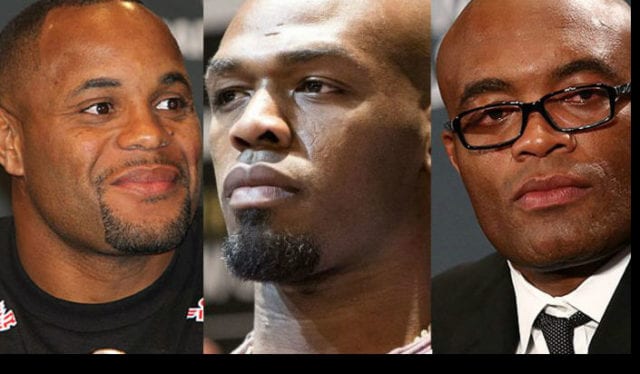 Daniel Cormier doesn't consider Anderson Silva and Jon Jones as greatest fighters of all-time.
The UFC light heavyweight champion is slated to fight UFC heavyweight champion Stipe Miocic in the main event of the upcoming UFC 226 pay-per-view event.
During the UFC 226 media conference call last week, DC went on record by stating that Silva and Jones shouldn't be added to the conversation as GOATS despite their accomplishments inside of the Octagon under the UFC banner.
The point to DC's argument was the fact that Silva and Jones have failed drug tests in the past.
It's been well documented that Silva was pulled from his bout against Kelvin Gastelum at the UFC Fight Night 122 event after he was flagged due to a U.S. Anti-Doping Agency (USADA) violation.
He tested positive for two banned substances, which were methyltestosterone and a diuretic. Those samples were collected back on October 26. It should be noted that Methyltestosterone is considered a synthetic anabolic steroid.
Silva tested positive for the steroids drostanolone and androsterone in 2015. He blamed his first failed drug test on a Thai sex drug. As a result, he was on the sidelines for one year.
Jones is waiting for a hearing about the decision made by USADA regarding his punishment for failing an in-competition drug test at UFC 214 after he beat Cormier by third-round TKO in the main event on July 29, 2017 in Anaheim, California on PPV (pay-per-view) to regain the title.
Jones tested positive for Turinabol, which led to the promotion stripping him of the light heavyweight title and making DC the champion once again. He was also pulled from the official UFC rankings.
"Any time a guy does performance enhancing drugs and on multiple occasions, they eliminate themselves," Cormier said during a UFC 226 media conference call (via MMAWeekly's Damon Martin). "So for as great as Anderson Silva was, he tested positive I think two times. Jones has tested positive two or three times. Those guys eliminate themselves."

"When you start getting performance enhancers tied to your name, there's no way around that. There's no way around it, and I think that of all the sports, the people that pay the harshest price are the baseball players. Because when you have negatives tied to your name, they deny you the ultimate vindication. The ultimate goal of a baseball player is to go to the Hall of Fame and these guys aren't even getting close.

"The Mark McGwires, the Sammy Sosas, the Barry Bondses, those guys aren't getting close because they have those bad things tied to their names. As a sport, I think MMA needs to evolve to the point that the punishment for having doing those things is your place within the sport should be challenged and should be questioned."