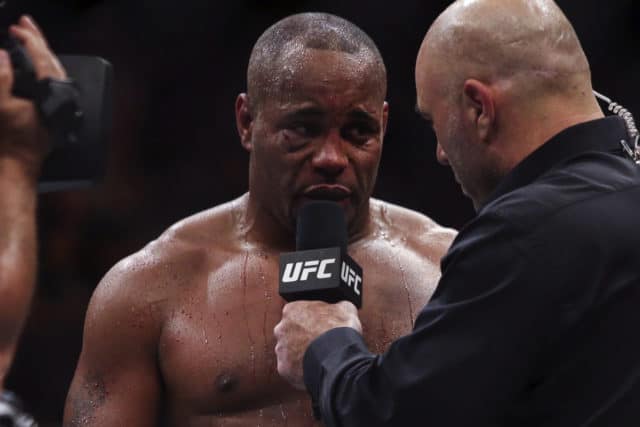 Daniel Cormier isn't keen on the notion that he isn't taking Derrick Lewis seriously heading into their championship main event at November 3's UFC 230 from Madison Square Garden in New York City. In fact, he even took the time to shut down Lewis' UFC 230 warning.
During a media day to promote the event yesterday (Thurs., October 18, 2018), Lewis declared himself 100 percent healthy. The news was surprising given that "The Black Beast" is currently medically suspended for his UFC 229 win over Alexander Volkov. Despite his state, he warned Cormier not to underestimate him:
"I will be 100 percent going into this fight. I went to the doctor and got cleared. Everything checked out pretty good. They basically said I was good to fight.

"If you don't take me serious, it's a mistake. I want him to take me serious, I don't want no excuses or nothing like that. I can't wait for that fight."
Never one to take a callout lying down, Cormier issued a reply in the wee hours of the morning today. He cited his illustrious track record before claiming there was no way he could not take Lewis seriously:
Trust me Derrick I am definitely taking you serious!!!! 9-1 last 10 and ranked #2 in the world. How could I not take you serious! #andstill #ufc230 pic.twitter.com/zq9vkYDP2G

— Daniel Cormier (@dc_mma) October 19, 2018
Question Marks For Both
Cormier is right to not take Lewis lightly. He may not be the fastest or most well-rounded fighter, but there's no doubt whatsoever that he possesses some of the most dangerous knockout power in the UFC. He's won nine out of his past 10 fights just like the double champ has.
"DC" is also dealing with an injured hand dating back to his UFC 229 championship win over Stipe Miocic. Both he and Lewis are pushing the envelope to get cleared to fight for UFC 230, but the offer the UFC put on the table was too good to pass up.
The heavyweight champ is a massive favorite on the betting lines, yet it's always wise to stay wary of a knockout artist like Lewis. Cormier insists he's doing just that and will be ready November 3. Based on his history-making body of work, we have little reason to doubt "DC."