According to Jon Jones, Daniel Cormier could never be the best fighter of all time because he came into the UFC during the wrong era – the Jones era. "DC" believes otherwise, however, because if he's able to pick up the win tomorrow (Sat. July 29, 2017) against "Bones" in the UFC 214 pay-per-view (PPV) main event, the former Olympian believes he'll be the greatest of all time.
Following yesterday's (Thurs. July 28, 2017) open workouts at the UFC Gym, Cormier spoke to the media to respond to Jones' comments about having arrived in the UFC during the wrong era. Not only does Cormier believe he'll be the greatest of all time with a win over Jones, but "DC" is convinced this is already his era (quotes via MMA Fighting):
"This is my era," Cormier said. "I win Saturday night, and I'm the greatest fighter ever. Why is it not my era? Because he beat me one time?"

"All his praise that he's giving himself on that victory like he dominated me tells me he did something he didn't know he could do," Cormier said. "He won a fight. He didn't wipe the mat with me, but he's walking around here like he just – he's walking around like he beat Lyoto Machida or 'Shogun' Rua."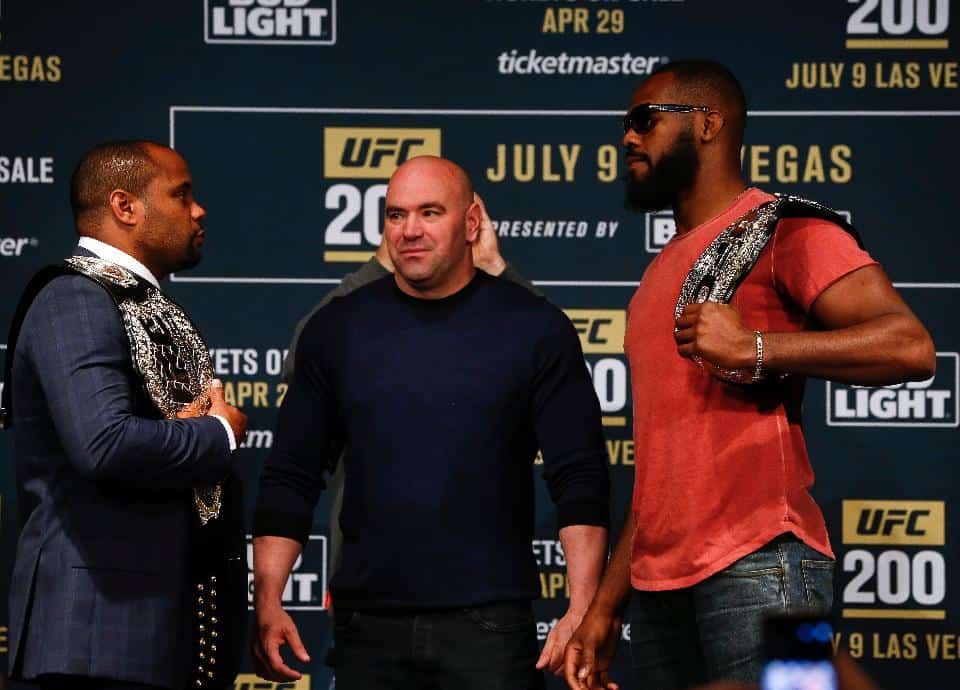 Cormier looks forward to defeating Jones tomorrow night, and in their supposed trilogy bout if he is, in fact, successful. With two wins over Jones he'll be able to hand "Bones" back all the drama he has had to deal with since Jones was stripped of the light heavyweight title.
Many fans have labeled Cormier as a 'paper champ' since he never actually defeated Jones for the belt. If Cormier is able to beat Jones in back-to-back fights, he'd like to relinquish the title to the 30-year-old so he can go through the same thing he did:
"How about I walk across the stage and say, 'Here, how about you deal with what I've been dealing with the last two years?' and leave," Cormier said. "Would that not be the ultimate 'f*ck you?' I think he'll win again after I'm done. After I beat him twice and if I walk off into the sunset, or I leave this division, he'll be the champion again. I want him to deal with what I've had to deal with where he is going to be berated for something that is not in his control."

"That's what's going to happen after the third fight," Cormier said. "I'm going to say, 'Here, this is his. I want him to be the champion right now.' So all the people that said they gave me a title, I will literally give him the title and say, 'You're the champ now, deal with this (expletive)."