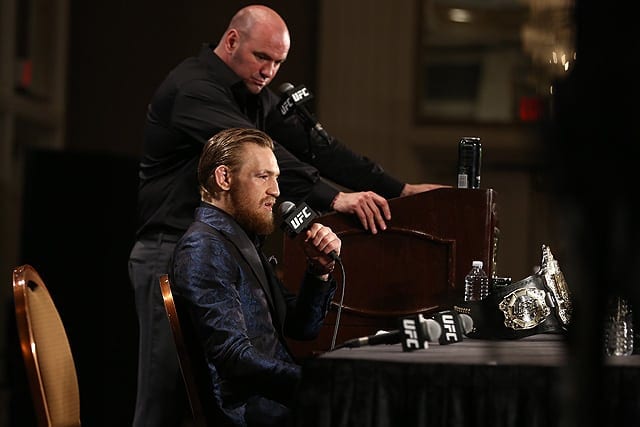 Although the first five months of 2017 have been some of the slowest in the history of the UFC, one story that currently sticks out right now is the ongoing feud between UFC flyweight champion Demetrious Johnson and UFC President Dana White.
Johnson released a lengthy statement detailing how he had allegedly been treated during a recent run of negotiations with the company, describing a scene where he was first demanded to face rising flyweight contender Ray Borg, and then former bantamweight champion TJ Dillashaw when "The Viper's" rival, current 135-pound champion Cody Garbrandt, pulled out of their match-up at July's UFC 213 with a back injury.
""Mighty Mouse," who tied Anderson Silva's record of 10 consecutive title defenses with a dominant submission of Wilson Reis at UFC on FOX 24 in April, detailed how UFC matchmaker Mick Maynard leveled threats at him that supposedly included the outright canning of flyweight and telling him he would never earn pay-per-view revenue for his fights.
The whole scene, regardless of who was right or not, was an incredibly bad look for the UFC in an era where fighters are growing increasingly discontented with their pay and treatment from new owners WME-IMG as they continue to speak out against the promotion in droves. The company is under rapidly growing fire for how they bully fighters, a strategy that may have worked during the Fertitta era but has been increasingly less effective once it became known the company was sold for $4.2 billion last summer.
But not surprisingly, White refuted Johnson's claims in an interview with TMZ (via MMA Fighting), stating (predictably) that "Mighty Mouse's" words were untrue and that the champion doesn't receive PPV points because he did not want to:
"My guy Mick, who is one of our guys who has been handling that, he said most of what [Johnson] said was not true, number one. Number two, the bottom line is Demetrious Johnson is in line right now — first of all, when he did his deal, he didn't want pay-per-view (points). He didn't want pay-per-view. He wanted up front money, no pay-per-view. He wasn't very confident in his abilities to sell pay-per-views. He has the lowest selling pay-per-view in the history of the UFC in the modern era, so, number one. Number two, I think that a fight between him and T.J. Dillashaw would be something that people would actually be interested in, and could sell pay-per-views and could make money, but he absolutely refuses to fight the guy. It's ridiculous."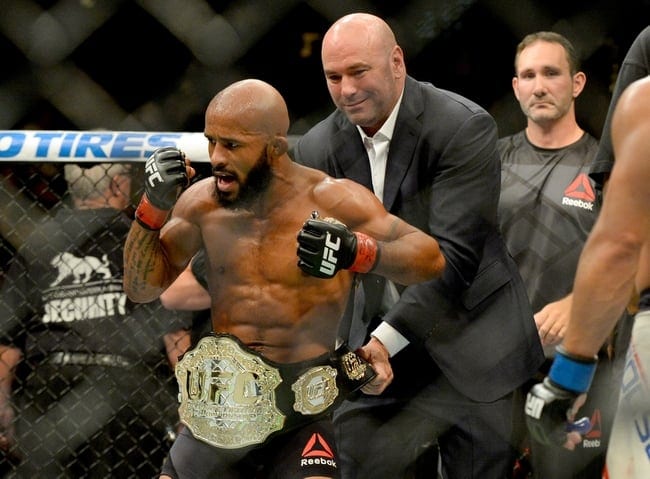 Johnson also cited a lack of promotion of him and flyweight overall as a reason why he hadn't become a star for the UFC, something White again shot down by citing the recent season of The Ultimate Fighter (TUF) that was solely focused on the division:
"We're not marketing him right? We built a TV show around him. The Ultimate Fighter (24) was about what an incredible fighter he is. We've put him on FOX many times and tried to build him, and it is what it is. It's not me. I'm bullying you? How do you bully the pound-for-pound best fighter in the world?"
So White claims to not be bullying "Mighty Mouse," yet he blasted the dominant champion's accomplishments by saying he was not the best pound-for-pound fighter in the world, a notion he believes the media created, despite his 10 consecutive title defenses. That honor, he insisted, goes to UFC golden boy Conor McGregor, who has won two belts but has zero title defenses:
"Listen, the media claims he's the pound-for-pound best fighter in the world," White said. "I think Conor McGregor is the pound-for-pound best fighter in the world. If you look at what that really means, what pound-for-pound means, and Conor doesn't give a sh*t, he'll fight anybody, anywhere, anytime. And if Demetrious is the pound-for-pound best guy in the world, then fight T.J. Dillashaw. Fight somebody that people will actually care about and be interested in, and there you go."
White also insisted that the UFC was not planning to can the flyweight division as a threat to Johnson not accepting the fight with Dillashaw because they had been considering doing just that for a long time:
"That's not true. We've been talking about shutting down the flyweight division for about three years," White said, laughing. "I think that's what he was saying, because he knows that. He knows that we've talked about, you know, doing away with that division. It has nothing to do with Demetrious.

"And never once did I threaten him to shut down the division. Did he say that? Yeah, that's not true. That's not what happened. I told him that we had been talking about shutting down the division for years. He knows that."