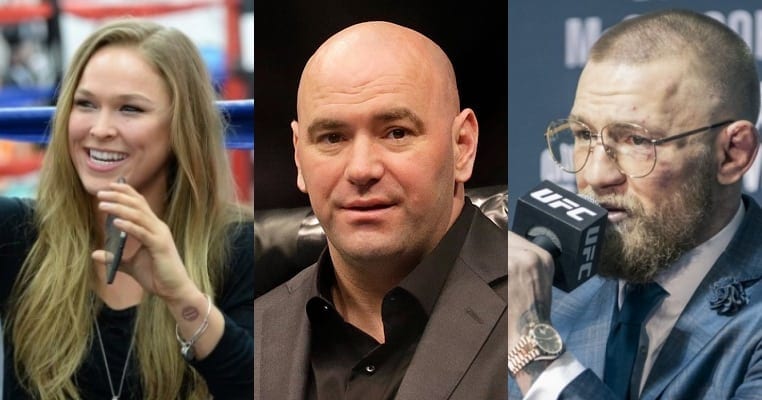 If you asked UFC featherweight champion Conor McGregor, he'd likely tell you that he's biggest star in the UFC. He may even have a strong argument for this case as he's headlined the two highest selling pay-per-views to date (UFC 196 and UFC 192), but UFC President Dana White doesn't agree.
Recently speaking on Hot 97 in New York (Via Seven Sport) ahead of McGregor's lightweight title fight with Eddie Alvarez on November 12, 2016 from Madison Square Garden, an event that is expected to once again break the PPV record, White said that former bantamweight champion Ronda Rousey is the promotion's biggest star.
The UFC boss even went as far to say that it's 'not even close':
"By far. Not even close. By far the biggest star. Ronda Rousey is such a big star. When you go down to Brazil, they don't care who you are. They want the Brazilian to whup your ass. When Ronda went down there, they cheered for Ronda over the Brazilian. Never seen that before in my life, and will probably never see it again. That's how big Ronda Rousey is."
The event White is referring to is UFC 190, which Rousey headlined in a bout against Brazilian Bethe Correia in August 2015. The "Rowdy" one did spearhead to an impressive 900,000 buys on PPV, also bringing in 1.1 million buys for her UFC 193 title fight with Holly Holm. The ex-champion hasn't competed since suffering a brutal defeat to "The Preacher's Daughter", but her return bout, if she ever does decide to make her comeback, is expected to be massive.
Aside from these statistics, Rousey has transcended the sport of mixed martial arts like few others as her successes have transferred over to modeling, movies, and books.
At the end of the day, however, McGregor's numbers are hard to argue against.

Who do you consider to be the biggest star in the world's largest mixed martial arts promotion?