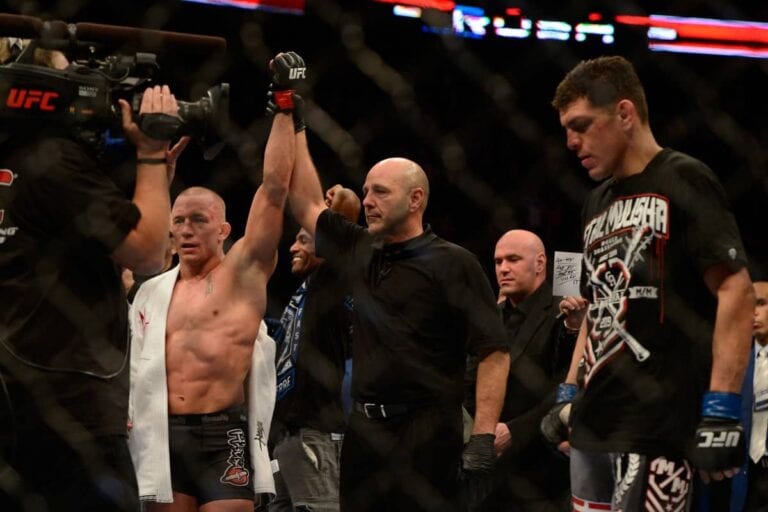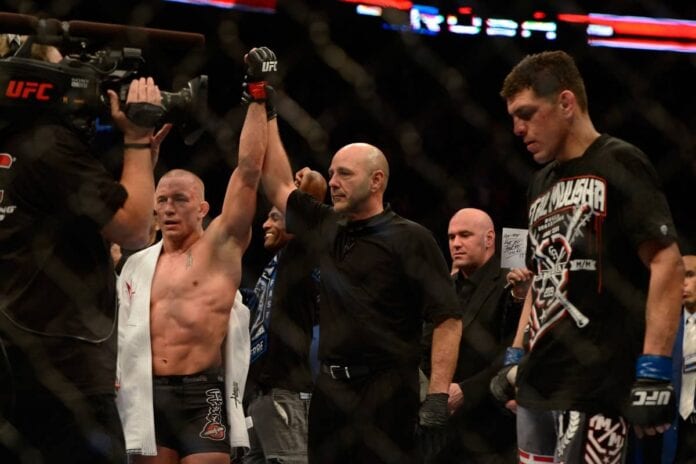 All-time great former UFC welterweight champion Georges St. Pierre still remains on the sidelines, nearly healed from a torn left ACL but without a fight planned since his controversial split decision win over Johny Hendricks at November 2013's UFC 167.
The return of the mixed martial arts (MMA) legend has been the topic of much speculation since he vacated the belt, but nothing official has been come from "Rush."
He stated that changes would have to be made to the UFC's drug testing policies for him to come back, and for a brief moment it appeared that would come true. However, the promotion scrapped their plans for their random drug testing after botching Cung Le's failed UFC Fight Night 48 test (and right before the Jon Jones failed drug test frenzy).
That might make it seem like "GSP's" return is less likely to happen, but during a recent appearance on UFC Tonight, UFC President Dana White gave his thoughts on the Jones' spectacle and St. Pierre's return:
White seems to have a strong sense that St. Pierre will be fighting again in 2015:
"I really do think that Georges St-Pierre will be back in 2015."
A St. Pierre return would be huge for the UFC, which greatly missed former top pay-per-view (PPV) draws like he and Anderson Silva during a brutal 2014 where profits fell considerably.
There's not much doubt that although Hendricks is scheduled to have his trilogy match with newly crowned champion Robbie Lawler, the UFC would most likely give St. Pierre an immediate title shot upon his return.
Perhaps that's deserved, because he still owns the record for most welterweight title defenses and never lost the belt despite facing increasingly difficult competition with each passing fight in recent years. St. Pierre probably still has a few years left as a top-flight contender, but he also has nothing left to prove.
Do you agree with White? Will St. Pierre return to the octagon in 2015?
Photo Credit: Eric Bolte-USA TODAY Sports