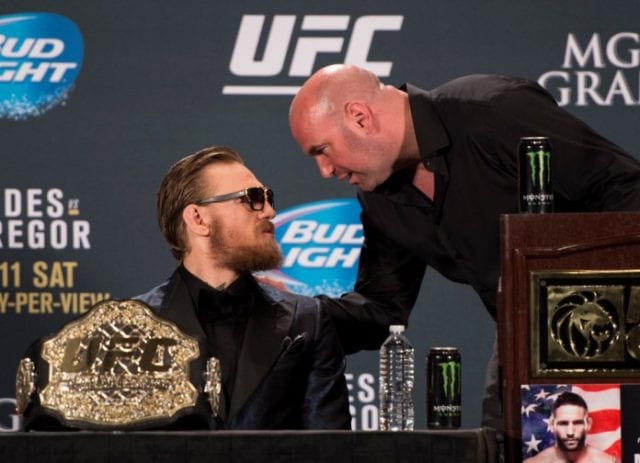 Conor McGregor wants a piece of ownership of the UFC. However, that doesn't sound likely to happen.
"The Notorious" seems to be playing hardball with the promotion. He announced his retirement from mixed martial arts (MMA) on Twitter earlier this morning. UFC President Dana White spoke to TMZ Sports on the matter recently.
In regards to McGregor's request for UFC ownership, White says he told the Irishman over text message that was never going to happen (via MMA Mania):
"He wrote 'I feel like I should own a piece of the company.'" White said. "And I said 'Conor, you know that's never going to happen.' But this was a couple of weeks ago."
Haven't Discussed It
White did note, however, that he and McGregor have never sat down and discussed a possible ownership deal face-to-face. The conversation has only happened through text:
"But Conor has never come out, sat down with me and said 'I want a piece of the company and here's why.' We've never had that conversation. We did it in text two weeks ago. Like I've said, I've never had a bad conversation with Conor McGregor in the entire time he's been with this company.
"You know I love the guy. He's got plenty of money. If he wants to retire that's his decision, and I always say when you start talking about retirement, it's probably something you should do if that's what you're thinking."

After being asked if a sit-down conversation could result in McGregor actually getting UFC ownership, White said one needs to put up the money to buy a piece of the company just like anyone else would:
"Listen, if you want to own a piece of the company, you have to put up the money to buy a piece of the company," White said. "That's how it works. These are all parts of negotiations. If you wanted to buy into the UFC right now, the valuation is pretty huge."

If you enjoyed this story, please share it on social media!