It's been 10 months since the late-great Kimbo Slice took his last walk to the cage to participate in mixed martial arts (MMA) competition, and the bout took the co-main event slot of Bellator 149 from Houston, Texas in February where Slice threw down with Dhafir "Dada 5000" Harris.
Slice would take home the TKO win in the third round of the contest, and Dada would be escorted out of the arena on a stretcher to a local hospital where he was in critical condition for an extended period of time. The result of the bout was later overturned to a No Contest, however, as Slice would later test positive for a banned substance.
Harris recently joined the Go 4 It Show with Paul Gant (courtesy of MMA Mania) to discuss the bout, where he claimed that he may have been poisoned before the fight because he felt something was 'definitely not clean' in the water that night:
"Man listen I'm not insinuating. Something in the water was definitely not clean. I came there to compete. Kimbo's been there before. This is my first time being on the level of that magnitude, right? But I had been on various other levels. I already was prominent,

""I already was a figure, already was known to millions of individuals worldwide prior to me coming to Bellator right? I took on certain things and they seen that there was no fear inside me, and all I'm saying is what happened to me. Who did it? That remains to be seen."
Dada would then go on to state that he believes Bellator knew that Slice was on banned substances before their bout, but allowed him to compete given the magnitude of the event:
"For me to pass a drug test, they took urine and so forth from me 30 minutes before I went out in the fight. They came back and said it was good. They also did the same thing to Kimbo Slice. So at the end of the day if they came back and told me I was good, I'm pretty sure they told him something else. But that remains to be something that production has to deal with because I do understand that the fight was that big."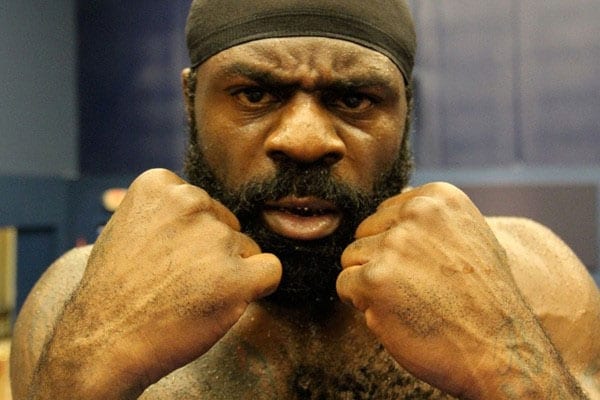 Harris believes the entire situation was designed to allow Slice to compete with an upper hand to 'destroy' him in attempt to make the 'backyard movement' look like fools:
"You know I really feel like it was designed for Kimbo Slice to come out on steroids and just destroy me in front of the world, and make me and the backyard movement look like a laughing joke. It didn't look like that. I still lasted to the third round."
Throughout the bout's progression Harris feels as though Slice may have been intimidated by his stand-up game, and that is why he decided to take the bout to the ground:
"You've got the skills, you had the technique, you had the experience. Your hands were supposed to be legitimately better than mine. I was willing to come out and duke it out with that dude. I didn't take him to the ground. When we went to the ground he took ME to the ground, but he's the boxing beast. I was willing to get out there and trade hands with you, but when I rushed him back to the cage, survival mode kicked in."
The fight was certainly one of the most bizarre (to say the least) things we've seen inside of an MMA cage, but do you truly believe Dada could have been poisoned?