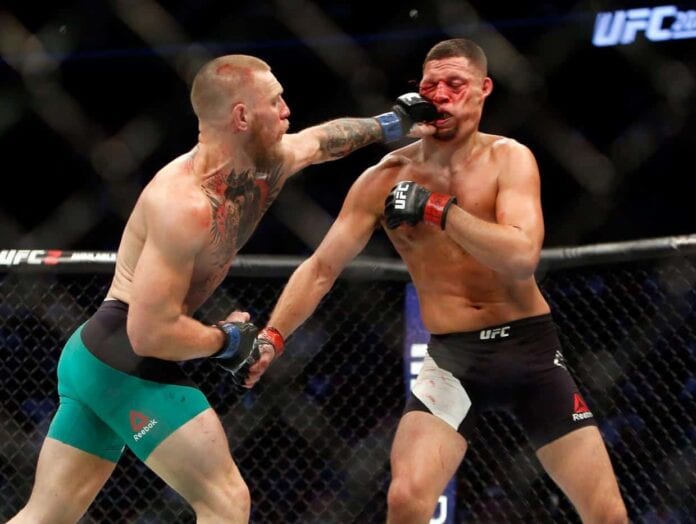 While featherweight champion Conor McGregor is gearing up to challenge lightweight champion Eddie Alvarez in the main event of November 12's UFC 205 from New York, Nate Diaz's fighting future is currently unclear.
Diaz and McGregor squared off in their highly anticipated rematch at August 20's UFC 202 with McGregor winning the bout by majority decision after suffering a shocking submission loss to the Stockton native in their first bout last March at UFC 196. Given the fact that the two rivals have split wins and losses, a trilogy bout seems likely down the road, and Diaz has made it clear that that's what he has his eyes set on.
The "Notorious" one, however, says a trilogy bout 'wouldn't end good' for Diaz, although he is open to the possibility potentially for the 155-pound title he plans to win next month:
"I think potentially so. The more I think about it Nate is going to be… There was a lot of damage done to Nathan in that last fight. You know looking at his face it just didn't look the same. I know those close to him will understand what I am talking about. So there could be a potential fight maybe down the line for the lightweight belt after I win this one. To see him have to make the weight. And then to see the damage that he took in the last fight and then come in at a much lower weight.. It wouldn't end good for him. So I'd imagine and I would probably hope that his people close to him would stop him from doing it. It's done now. Cash your money and bounce," McGregor told The LAD Bible.
Diaz is currently ranked No. 4 in the lightweight division, and given his history with McGregor, it wouldn't be surprising to see the two booked again if McGregor gets by Alvarez.
Would you like to see a rubber match take place?