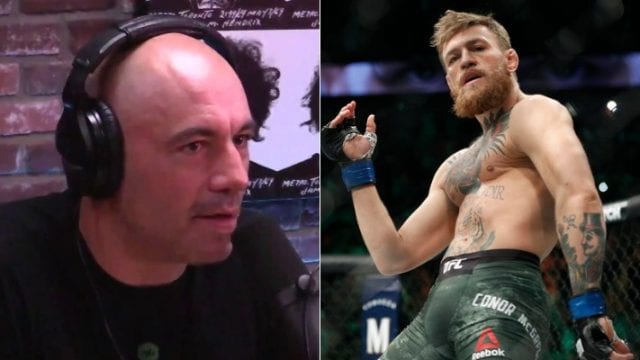 Conor McGregor is rumored to be returning to MMA as soon as this July, but he has one request when he does. Because of that, it's time McGregor issues a warning to Joe Rogan.
The longtime Octagon commentator is obviously a fan-favorite personality in the sport. His podcast is justifiably reaching record numbers of listeners.
Yet that's not enough to dodge McGregor's criticism about his commentary. In a recent video via BJ Penn's Mike Pendleton, "The Notorious" hinted he could appear on Rogan's podcast. If he did, he requested that Rogan call his fights correctly rather than if he was 'reading off a script':
"I'd like him to call a fight how he sees it correctly and not be reading off a script. The Diaz rematch it was like he was reading from the first fight and that last one, he was talking about my face was being smashed in. I left that Octagon with a black eye, the same way [Khabib's] two rat cousins left. His brother and his cousin left the Octagon with a black eye, so what is he talking about?"
McGregor Making Sense – Or Not?
It's difficult to imagine Rogan commentated the second Diaz fight the same as the first. I'd have to go back and watch both to truly try and bridge that comparison. I suppose it is possible.
McGregor was finished in the second round of the first fight while he won a five-round decision in the second fight. McGregor hitting Khabib's teammates after losing at UFC 229 is also strange. It doesn't seem to really have anything to do with the outcome of the actual fight.
The UFC's biggest star (for now) is not the first fighter to have issues with Rogan calling a fight in a one-sided manner. Many have complained about that issue.
But does McGregor have a legit gripe here?
If you enjoyed this story, please share it on social media!