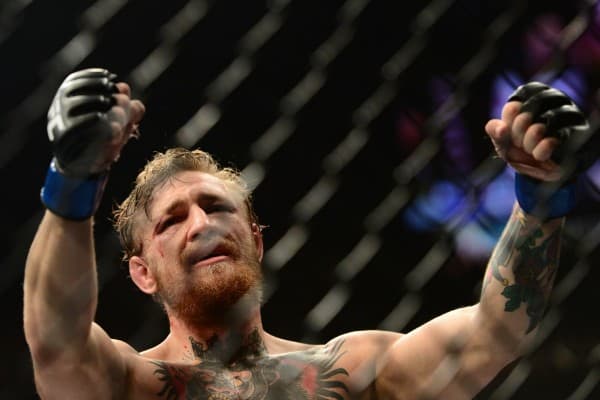 The Conor McGregor Era officially begun when 'Notorious' delivered for his Irish faithful and weathered a storm to come back and knock out Chad Mendes for the interim featherweight title in the of last night's (Sat., July 11, 2015) UFC 189 pay-per-view (PPV) from the MGM Grand Garden Arena in Las Vegas, Nevada.
While it's not technically an official reign until McGregor faces and defeats heated rival and longtime champion Jose Aldo, McGregor fans everywhere can rejoice in the fact that their fan favorite slugger delivered by defeating the challenge that many believed he would fail against, a top-level wrestler.
So while McGregor had a lot to prove – and he did, with the weight of an entire nation and an even bigger mountain of trash talk to back up – he's simply arrived on all of the hype, promotion, and buildup.
Yes, he succumbed to many takedowns from former NCAA All-American Mendes, and yes, it appeared that he was well on his way to getting ground out in the second round. That's obviously a facet of his game he's going to have to shore up.
But he also showed excellent resilience to persevere Mendes' ground onslaught and get up to unleash his patented left hand. Many may argue that short notice replacement Mendes would have done better on a full camp, and while that may or may not be true, it's clear that McGregor's devastating body shots, undoubtedly sapped 'Money's' gas tank, impairing his ability to keep his movement level high.
There's also the school of thought that may suggest Frankie Edgar may be able to be even more successful with a wrestling-centered gameplan than Mendes was, as 'The Answer' is known to never gas. Again, that may or may not be true, but McGregor's most likely going to have to get past Aldo first if we want to see that fight come to fruition. Will Aldo present more problems that Mendes did tonight? Well, he has beaten 'Money' twice, so the odds would suggest he would. He also has much more reach than the diminutive Mendes, but he doesn't have near the wrestling pedigree.
Regardless, that fight is mot likely going to be the biggest UFC championship bout of all-time, and a lot of that is due to McGregor's uncanny ability to promote a fight. He showed us his fighting skills could truly, once and for all, live up to the precedent that his mouth has been setting all of this time.
So win or lose against Aldo, or against Edgar, Conor McGregor has made his mark on the UFC as a truly elite featherweight, and in doing so; he delivered on what may have been the most hype in promotion history.