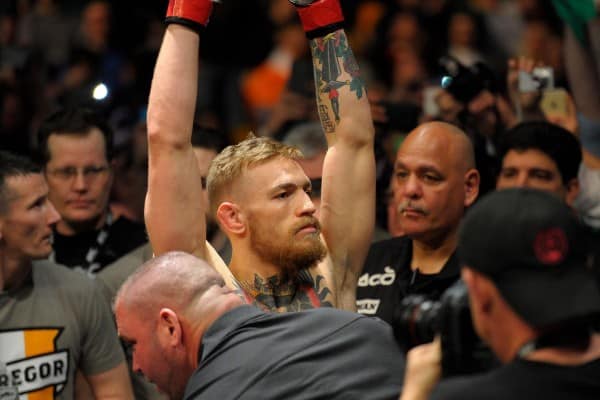 In slightly over two years, Conor McGregor has taken the UFC featherweight division by storm, giving it previously unseen popularity with his creative trash talk while winning five straight fights to earn a title shot at dominant champion Jose Aldo on July 11's blockbuster UFC 189 pay-per-view (PPV) from Las Vegas.
He's without a doubt the current man of the hour in mixed martial arts (MMA), and his star is seemingly shining brighter with each passing interview. Having already called out nearly every top-ranked fighter, he shifted his focus to an even more prominent figure in combat sports, boxing champion Floyd Mayweather.
McGregor believes that a fight with Mayweather, who meets Manny Pacquiao in a one of the biggest bouts in boxing history on May 2, would be no contest. Breaking down the speculative match-up during an interview with Esquire, McGregor gave his take on how limited Mayweather's overall skillsets would be:
"I don't look at a man who's expert in one area as a specialist," he says. "I look at him as a rookie in ten other areas. If you can box, what happens if I grab hold of your legs? If you put me face-to-face with Floyd Mayweather—pound-for-pound boxing's best—if I fought Floyd, I would kill him in less than thirty seconds. It would take me less than thirty seconds to wrap around him like a boa constrictor and strangle him."
There's been a measured amount of talk about how Mayweather would do in MMA, with most of the comparisons revolving around how he would do in the octagon against undefeated women's bantamweight champion Ronda Rousey. Up against the top male fighters in the UFC, it's probably not much of a question that Mayweather, who has no formal ground training, would be a quick out if he were taken down. And he probably would be at the very first opportunity, similar to when former boxing champ James Toney took on Randy Couture in their famous "freak show" bout back at UFC 118 in 2010.
For the most part, McGregor isn't known for his ground fighting; he's usually content to use his reach, accuracy, and power to pick his opponents apart on the feet. He is supposed to possess a very solid set of submission skills with a brown belt in Brazilian jiu-jitsu.
It's safe to say that those skills would be on full display were he ever to fight Mayweather. That fight will almost assuredly never happen, but at least McGregor has clarified his view that he could destroy the only man who quite possibly outweighs him in combat sports notoriety.
The major difference between the two electrifying personalities is that Mayweather's been on top for a long time, while McGregor is just getting started.
Photo Credit: Bob DeChiara-USA TODAY Sports