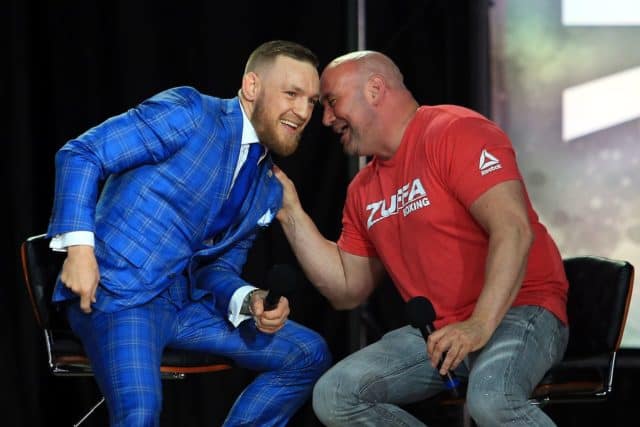 Yesterday (Tues., June 5, 2018) Forbes released their World's Highest-Paid Athletes For 2018 list, and a familiar face for mixed martial arts (MMA) fans ended way up at the No. 4 spot.
Former UFC featherweight and lightweight champion Conor McGregor made the top five with $99 million, ranking 4th, thanks in large part to his high-profile boxing bout against Floyd Mayweather Jr. that earned him a reportedly staggering $85 million payday.
At the No. 1 spot was none other than "Money" himself, who raked in $285 million. McGregor first appeared in Forbes' list back in 2016 when he was ranked at No. 85. The following year he shot his way up to the No. 24-spot.
McGregor recently took to Instagram to celebrate the news of his placement on this year's Forbes list and made a rather interesting revelation as well.
The Irishman claimed that he could've passed up soccer mega-stars Cristiano Ronaldo and Lionel Messi to take the No. 2 spot had he fought on at UFC 224 May 12th in Rio De Janeiro, Brazil, which he claims to have agreed to do:
"Made it to number 4 on the Forbes list this year. If I had of fought on the agreed May 12th bout in Rio De Janeiro, I would have surpassed Ronaldo and Messi to take 2nd place.  Something came up however… Ah well, still under 30."
McGregor's "something came up however" reference is likely in regards to his dolly-throwing antics in Brooklyn before UFC 223. "The Notorious One" stormed a parking lot with his entourage and attacked a pair of buses that were transporting fighters on the pay-per-view (PPV) card.
This was allegedly in an attempt to hunt down now-UFC lightweight champion Khabib Nurmagomedov, who had a run-in with McGregor's teammate and friend, Artem Lobov, at the designated fighter hotel earlier that week. McGregor threw a dolly at one of the busses and shattered a window, which injured several fighters and caused a few fights to be scrapped from the card.
McGregor was subsequently arrested, and if his statement of agreeing to fight in May proves to be true, this is likely the reason those plans never came to fruition.
If you enjoyed this story, please share it on social media!